Press Releases
Handmade To Sell: Hello Craft's Guide to Owning, Running, and Growing Your Crafty Biz by Kelly Rand with Christine Ernest, Sara Dick, and Kimberly Dorn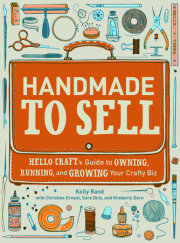 Kelly Rand
Imprint: Potter Craft
On sale: July 10, 2012
Price: $17.99
Pages: 176
ISBN: 9780307587107
Contact:
Kim Small
212-572-6067
ksmall@randomhouse.com
You love making crafts—for your friends, for your kids, and for the holidays. So how can that be turned into a business? The current economic downturn has had an unexpected silver lining: people have been motivated to monetize their talents and realize their dreams of small-business ownership. Crafting has expanded into an entrepreneurial undertaking, and sites such as Etsy.com have been catering to this growing segment of the population. (Etsy boasts more than 400,000 sellers of handmade goods on its site.) Craft fairs and crafting vacations have grown exponentially in recent years, and crafters have been clamoring for solid advice for creating, growing, and running a craft business.
Filling this need is HANDMADE TO SELL: Hello Craft's Guide to Owning, Running, and Growing Your Crafty Biz. From setting up a booth at a craft fair to taking the perfect product shot and launching an online storefront, instructions are provided for everything an entrepreneurial crafter needs to know about organizing a company, making essential business decisions, branding, presenting, marketing, and selling work, all on a lean budget (and with a green attitude).  Whether you've only contemplated selling your work, have some experience selling at crafts fairs or online, or have a thriving business and are considering hiring staff or outsourcing some of your tasks, the book has answers to all manner of questions regarding developing successful product lines, choosing the right business entity, developing a brand identity, selecting among the wide variety of available sales outlets, preparing taxes, and forming LLCs. Also featured are expert tips and invaluable strategies and advice from some of the most lucrative craft business owners, who have found success with a great variety of products and strategies.
In addition to focusing on low-cost resources and solutions that will help craft businesses start and thrive, HANDMADE TO SELL shares information on how to support a product and distinguish a brand visually; investigate opportunities in the fine craft and art markets; diversify income through organizing, licensing, and writing; and deal with hiring and outsourcing.
Written by the founders, organizers, and executive staff of Hello Craft (www.HelloCraft.com), a nonprofit trade organization dedicated to the advancement of independent crafters and empowerment of small-business owners; of the Summit of Awesome, an annual three-day craft business conference; and of Crafty Bastards, a DC arts and crafts fair with 30,000 attendees, HANDMADE TO SELL is the most complete, up-to-date, and authoritative resource for crafters seeking to learn every aspect of selling, marketing, and branding.
Related Posts: