Press Releases
HAG-SEED by Margaret Atwood
Best-selling, award-winning author Margaret Atwood retells one of Shakespeare's most stirring plays, THE TEMPEST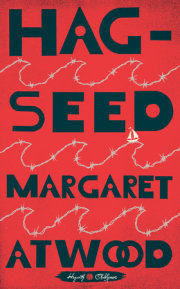 Margaret Atwood
Imprint: Hogarth
On sale: October 11, 2016
Price: $25.00
Pages: 320
ISBN: 9780804141291
Contact:
Rachel Rokicki
212-782-8455
rrokicki@penguinrandomhouse.com
Praise for HAG-SEED
"If you're in line for a retelling of Shakespeare's The Tempest, a revenge play fueled by treachery, foolishness, grief, and magic: Margaret Atwood's Hag-Seed is your ticket…The visionary Atwood's daring and elaborate twenty-first century take, set in a Canada prison in the boondocks, will make you shiver and squirm with dread, wonder, and delight." –ELLE
"Atwood's canny remix offers multiple pleasures…[marvel] at the ways she changes, updates, and parallels the play's magic, grief, vengeance and showmanship." –Publishers Weekly, starred review
"…Inventive, heartfelt, and swiftly rendered." –Library Journal, starred review
"What makes the book thrilling, and hugely pleasurable, is how closely Atwood hews to Shakespeare even as she casts her own potent charms, rap-composition included… Part Shakespeare, part Atwood, "Hag-Seed" is a most delicate monster — and that's "delicate" in the 17th-century sense. It's delightful."
–The Boston Globe

"A funny and heartwarming tale of revenge and redemption, this latest release in the Hogarth Shakespeare project, whose aim it is to retell Shakespeare's most beloved works through the works of bestselling authors like Anne Tyler and Gillian Flynn, Hag-Seed is a remarkable contribution to the canon."
—Bustle

"…you don't need to be a Shakespeare geek like me to enjoy Hag-Seed; it's a good story, and will introduce you to the play gently, with Felix himself as your guide."
—NPR Books

"Hag-Seed is a treat. It's a beautifully constructed adaptation, one that stands on its own but is even richer when read against its source — and can, in turn, enrich its source material. It's playful and thoughtful, and it singlehandedly makes a good argument for the value of adapting Shakespeare."
—Vox
"Atwood has designed an ingenious doubling of the plot of "The Tempest": Felix, the usurped director, finds himself cast by circumstances as a real-life version of Prospero, the usurped Duke. If you know the play well, these echoes grow stronger when Felix decides to exact his revenge by conjuring up a new version of "The Tempest" designed to overwhelm his enemies."
—The Washington Post


"Atwood has tremendous fun with Hag-Seed. Those who know the play will especially enjoy her artful treatment of its more poignant storylines. But even someone unfamiliar with Shakespeare will be entertained by this compelling tale of enchantment and second chances, and the rough magic it so delightfully embodies."
—Bookpage


"Readers looking for Atwood's wit and mastery of language will find it at work here… Atwood more than does justice to the Bard."
—Chicago Review of Books

"One needn't be a Shakespeare fan in order to love this retelling of The Tempest…This book is funny and wonderful. Highly recommended for Shakespeare lovers and those seeking revenge."
—Seattle Book Review
---
The Hogarth Shakespeare series, an international publishing initiative across the Penguin Random House Group, has thus far published three retellings of the Bard's most renowned plays: The Gap of Time by Jeanette Winterson, Shylock Is My Name by Howard Jacobson, and Vinegar Girl by Anne Tyler. The Financial Times has called the Hogarth Shakespeare series "A magnificent set of commissions" while The Wall Street Journal has exclaimed it is "the project best showcasing Shakespeare's relevance to today."
Now, Margaret Atwood joins Hogarth Shakespeare and conjures the ultimate revenge tale in HAG-SEED (Hogarth; Publication date: October 11, 2016).  Atwood, whose work has been published in over thirty-five countries, is the author of more than forty books of fiction, poetry, and critical essays. In addition to The Handmaid's Tale, currently being adapted for series television by MGM and Hulu, her novels include Cat's Eye, short-listed for the 1989 Booker Prize; Alias Grace, which won the Giller Prize in Canada and the Premio Mondello in Italy—and which Netflix is now adapting into a six-hour miniseries; and The Blind Assassin, winner of the 2000 Booker Prize. Her most recent, The Heart Goes Last, was lauded by critics. She is the recipient of the Los Angeles Times Innovator's Award, along with many other accolades. Her work has earned her a place as "one of the most impressively ambitious writers of our time" (The Guardian).
HAG-SEED, a dark, fantastical retelling of one of Shakespeare's most unforgettable plays, The Tempest, revolves around one betrayed man's plot for vengeance—a scheme as innovative as it is deadly—set within the confines of a prison, rather than an island. Felix was at the top of his game as Artistic Director of the Makeshiweg Theatre Festival, staging a Tempest like no other: not only would it boost his reputation, it would heal the emotional wound caused by the death of his young daughter, Miranda. As Atwood writes, This 'Tempest' would be brilliant: the best thing he'd ever done. He had been-he realizes now-unhealthily obsessed with it. It was like the Taj Mahal, an ornate mausoleum raised in honor of a beloved shade, or a priceless jeweled casket containing ashes. But more than that, because inside the charmed bubble he was creating, his Miranda would live again. All the more crushing for him when it had fallen apart. In an act of unforeseen treachery, Felix was suddenly deposed by his deceitful assistant and his production was cancelled, leaving him heartbroken and living in exile in a backwoods hovel, haunted by memories of his lost daughter.
Finally, after twelve years of waiting, Felix devises a plan for retribution. He's making a modest success teaching the Literacy Through Theatre course at the nearby Fletcher Correctional Institute, when an auspicious star brings his enemies within reach. Felix and his inmate actors will stage The Tempest and ensnare the traitors who destroyed him. With the help of their own interpretations, digital effects, and the talents of a professional actress and choreographer, the Fletcher Correctional Players prepare for the roles of a life-time. It's magic! But will it remake Felix as his enemies fall?
Delving into the constructs of family, loyalty, and ownership, HAG-SEED brings to life this canonical play with a modern twist sure to delight readers. As Atwood explains, "The Tempest is, in some ways, an early multi-media musical. If Shakespeare were working today he'd be using every special effect technology now makes available. But The Tempest is especially intriguing because of the many questions it leaves unanswered. What a strenuous pleasure it has been to wrestle with it!"
# # #
About the Author: Margaret Atwood, whose work has been published in thirty-five countries, is the author of more than forty books of fiction, poetry, and critical essays. In addition to The Handmaid's Tale, her novels include Cat's Eye, short-listed for the 1989 Booker Prize; Alias Grace, which won the Giller Prize in Canada and the Premio Mondello in Italy; The Blind Assassin, winner of the 2000 Booker Prize; Oryx and Crake, short-listed for the 2003 Man Booker Prize; The Year of the Flood; and her most recent, MaddAddam. She is the recipient of the Los Angles Times Innovator's Award, and lives in Toronto with the writer Graeme Gibson.
Related Posts: