Press Releases
GUN LOVE by Jennifer Clement
A Novel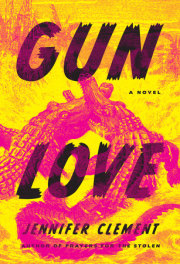 Jennifer Clement
Imprint: Hogarth
On sale: March 6, 2018
Price: $25.00
Pages: 256
ISBN: 9781524761684
Contact:
Gwyneth Stansfield
212-366-2201
gstansfield@penguinrandomhouse.com
Praise for Gun Love
"Through a memorable coming-of-age story set in America's margins, Clement makes all of these things true at once: A gun is a valentine, a secret-bearer, a penitent, a world destroyer, an exposed belly, an insurance policy, a sudden act of God." —Salon
"Clement creates a weird poetry of murderous force. Chekhov's narrative principle—that a gun hung on the wall in the first act must eventually go off—has become a metaphorical rule of storytelling. To reflect American reality, Ms Clement puts a gun on every wall in every room." —The Economist
"Though this world is harrowing, it's also fortified with ample wit and tenderness. The sweet sorrow of doomed maternal love is at the novel's thrumming center, as is the author's cockeyed affection for the region. "In our part of Florida everything was puzzled," Pearl tells us. Gun Love potently illuminates this puzzled land, and the complicated fates of those who dwell in the pockets visitors won't find on a map." —O, The Oprah Magazine
"[T]hat this novel cast a deep spell on me that has yet to subside. Clement relays Pearl's trouble-strewn story in the kind of prose that gets called "poetic": it's taut, spare, musical, metaphor-laden, haunting, and every so often hits you so hard in the gut that you gasp." —Jonathan Miles (BookPage, "What They're Reading")
"It's been a long time since I've been so mesmerized with a novel's each next sentence. Jennifer Clement is one of our most inventive novelists. There's no telling what she'll see. Whatever it is, it's something right in front of us, but—here is the magic trick—something we have never before seen. Gun Love is an amazement: fierce, inventive, tender." —Rick Bass
"Jennifer Clement is a master at creating worlds that feel like tiny dioramas —modern allegories, reflecting and responding to social issues while still feeling contained and mystical, like something you'd see inside of the world's most ornate snow globe, or a theme park — that is, until politics invade these worlds, and these worlds become recognizable as ones that exist both on and off the page." —Miami Rail Review
"Clement is a brilliant stylist; her figurative language is far more than fine; her metaphors and similes are superb; and together they create a haunting atmosphere—sometimes fey, occasionally whimsical, no stranger to tragedy but always heartfelt and spot-on, as are her beautifully realized, captivating characters. Though suigeneris, her work may remind some readers of Flannery O'Connor's. Always evocative, it is an unforgettable knockout not to be missed." —Booklist (starred)
"Pearl's story takes place in a world both strange and familiar, in the fairy tale of her mother's imagination and in an America pockmarked by gun violence and poverty. Readers will root for Pearl to—somehow—reconcile the two visions, even as fate forces her hand. Clement's quiet tragedy is moving, unsettling, and filled with characters who will haunt you long after the story ends." —Kirkus
"Clement's affecting and memorable novel is also an incisive social commentary that will give readers much to ponder." —Publishers Weekly
"Clement's latest is made memorable by the resilient Pearl, whose worldview is shaped both by the harsh, gun-saturated realities of the trailer park and by her mother's past with its piano lessons and fine china. This unusual and impressive novel is carried by her tough, lyrical voice." —Library Journal
Jennifer Clement has won accolades for her poetic, imaginative portrayals of complex women in Widow Basquiat and Prayers for the Stolen—and for her intelligent, fierce, and deeply resonant engagement with serious social issues. In Prayers for the Stolen, which was a finalist for the PEN/Faulkner Prize, Clement expertly navigated the unrelenting violence against women living in the shadow of the Mexican drug wars. Her singular novel continues to gather praise: a film adaptation is under way, with acclaimed documentarian Tatiana Huezo, and in a recent interview with NPR's To the Best of Our Knowledge, Nobel Prize winner Kazuo Ishiguro urged listeners to read Prayers for the Stolen, saying, "I think it's an important book. I think it's brilliantly written. It's very moving."
With her latest novel, GUN LOVE (March 6, 2018; Hogarth), Clement now turns her incisive gaze and lyrical gifts to America's love affair with guns. Nine-year-old Pearl lives with her mother in a 1994 Mercury Topaz, parked at the Indian Waters Trailer Park, in central Florida. Pearl's mother is a young runaway who escaped the particular cruelties of her affluent, privileged upbringing to begin a new life for herself and her daughter. Despite their hardships, mother and daughter both adjusted to life, making friends with their neighbors in the trailer park and enjoying a deep connection to each other.
Nearly everyone around them owns a gun for hunting alligators—and everything else. The father of Pearl's best friend wants to protect his family. And after a down-on-his-luck old friend of park resident Pastor Rex comes to town, the pastor begins a highly successful "Give Your Guns to God" campaign, which turns out to be a highly lucrative gunrunning business.
When Pearl's mother falls hard for Pastor Rex's mysterious friend, Eli—a Texan with a passion for guns and a knack for finding trouble—Pearl's unusual childhood is soon over, and she finds herself running headlong into premature adulthood and the world beyond Indian Waters Trailer Park.
Clement's writing has been called "beguiling, and even crazily enchanting," and GUN LOVE is no exception; the simplicity of Clement's prose allows her utterly captivating characters and imagery to arise discretely. Pearl's mother has "empathy malady"—the gift to see inside people—and sees "splinters inside their bodies and the bottles filled with tears."
With this stunning lyricism, GUN LOVE tells Pearl's story: a fearless young woman growing up in a contemporary America, where guns capture our love and violence permeates our surroundings.
About the author:  JENNIFER CLEMENT is the author of multiple books, including Widow Basquiat. She was awarded an NEA Literature Fellowship and the Sara Curry Humanitarian Award, among other international prizes, for Prayers for the Stolen and a Guggenheim Fellowship for Gun Love. Clement is the president of PEN International—the first woman ever to be elected—and currently lives in Mexico City.
SELECT ACCLAIM FOR JENNIFER CLEMENT
Prayers for the Stolen
A New Statesman Book of the Year, picked by Kazuo Ishiguro
An Irish Times Book of the Year
Finalist for the PEN/Faulkner Prize
"I think it's an important book. I think it's brilliantly written. It's very moving." —Kazuo Ishiguro, winner of the 2017 Nobel Prize in Literature, NPR's To the Best of Our Knowledge
"Compelling . . . just beautiful . . . really, really beautiful." —Diane Rehm, NPR
"Beguiling, and even crazily enchanting . . . [Clement] writes a poet's prose, spare and simple, creating her world through patterns of repeated and varied metaphors and images that blossom inside the reader like radiant poppies. . . . Prayers for the Stolen gives us words for what we haven't had words for before, like something translated from a dream in a secret language. The novel is an ebullient yet deeply stirring paean to its female characters' resiliency and capacity for loyalty, friendship, compassion and love, but also to the power of fiction and poetry." —Francisco Goldman, New York Times Book Review
"A beautiful, heart-rending novel . . . Fiercely observed comparisons of human and inanimate life form a continuing motif throughout the story . . . [Clement] achieves the formidable feat of smooth, clear English that pulses with an energy and sensibility that is convincingly Latin American. . . . So compelling . . . Prayers for the Stolen is a powerful read." —Wall Street Journal
"The theme of Prayers for the Stolen is the wanton violence inflicted on women and the destruction of communities as a result of the drug trade in Mexico, but Clement's eye for the revealing detail, the simple poetry of her language, and the visceral authenticity of her characters turn that deadening reality into a compelling, tragically beautiful novel." —Yann Martel, author of Life of Pi
"What can I say about this novel? That it's extraordinary, electric, heartbreaking, profound? There aren't enough adjectives to describe how moved I was by the story of Ladydi and her friends, of their tragic lives and quiet fortitude in spite of a world that conspires against them. Maybe it's enough just to say this: Prayers for the Stolen is the best book I've read in years." —Cristina Henríquez, author of The World in Half 
"The most enchanting journey I've taken in a long, long time, and the most important. Prayers for the Stolen is a hand-guided tour through a ruthless true corner of our century, with characters so alive they will burrow into your heart. Stunningly written, magically detailed, you see, smell, and taste the action on every page, feel every foible, and miss the candor of these funny, achingly human voices long after you put them down. As the heroine herself might say: not something to read but to lick off a plate."
—DBC Pierre, Man Booker Prize–winning author of Vernon God Little
"Clement is more a poet than a documentarian, and the girls and women of the village she chronicles are complex individuals. . . . Clement treats the brutal material honestly . . . and ultimately allows Ladydi to continue to hope."—Publishers Weekly
"Moving . . . Through a beautifully rendered poetic rhythm all her own, Clement tells a story of the often forgotten women who carry on through the drug wars. . . . Prayers for the Stolen tells a complicated and layered story. . . . It feels painfully real, with a dry wit and subtly inquisitive subtext that should leave American readers wondering what can be done." —Kirkus Reviews
Widow Basquiat
An NPR Best Book of the Year Selection in seven categories
"Stunningly lyrical . . . original, insightful, and engrossing . . . While filled with pop culture anecdotes art fans might seek—Andy Warhol and Rene Ricard both make appearances, for instance—Clement's account is an honest love story above all else." —Publishers Weekly
"Sublime, poetic . . . [Clement] chronicles her close friend Suzanne Mallouk's love affair with Basquiat in elegant, spare, riveting prose. . . . A powerful female coming-of-age story . . . a harrowing, beautifully told love story about two seekers colliding in a pivotal moment in history, and setting everything, including themselves, on fire." —Rebecca Walker, NPR
"Magical . . . Widow Basquiat conjures real characters, a real time and real place. It's not theory—it's representation. . . . The life of Basquiat . . . is a joyous lightning bolt when it is described in true detail, as it is in Clement's extraordinary as-told-to poem." —Glenn O'Brien, Artforum
"Provocative . . . With short, episodic chapters, Clement (Prayers for the Stolen, 2014) delivers real insight into the life of the brilliant artist as well as the glittering—but ultimately chaotic—world that consumed him. . . . Disturbing and poetic." —Kirkus Reviews
"A beautifully evocative, poetic memoir . . . Basquiat was aware of the criteria with which posterity would judge him. Widow Basquiat should be part of those criteria." —The Herald
"An engrossing narrative . . . Clement offers far more clues to the cryptic symbols which litter his [Basquiat's] paintings than any art critic could." —The Times
"A brilliant account of the relationship between Basquiat and his muse and lover . . . a compelling book that leaves a giant-sized lump in the throat . . . Clement hypnotises us with a vivid portrait of Basquiat, powerfully evoking his inventiveness as an artist." —The Independent
Related Posts: