Press Releases
THE GROWTH DELUSION: WEALTH, POVERTY, AND THE WELL-BEING OF NATIONS By David Pilling
A provocative and insightful look at our obsession with economic growth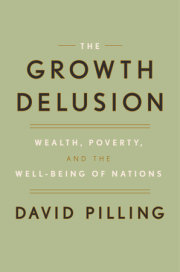 David Pilling
Imprint: Tim Duggan Books
On sale: January 30, 2018
Price: $26.00
Pages: 304
ISBN: 9780525572503
Contact:
Dyana Messina
212-572-2098
dmessina@penguinrandomhouse.com
Advance Praise for THE GROWTH DELUSION
"Briskly and engagingly, David Pilling alerts us to our impoverished sense of reality in an age that has sacrificed quality to quantity. The Growth Delusion should be read by everyone who wants to make sense of the political earthquakes of our time." —Pankaj Mishra, author of Age of Anger
"David Pilling is a witty, well-informed, and well-traveled guide to our obsession with growth, even when it is poorly defined or fails to measure what we care about. He appreciates what growth has done for so many, but his skepticism about GDP—and its alternatives—is an invaluable primer as we try to do better. If he sometimes makes fun of measurement, he also makes measurement fun. A real achievement." —Angus Deaton, Winner of the Nobel Prize in Economics
"An excellent and timely book that should be mandatory reading for policy makers, economists, investors, and, yes, journalists. It exposes the folly of our reliance on a narrow concept of economics as a sign of well-being—and does this in a lively, well-written, and easy-to-understand way that draws on Pilling's long career around the world. Most important of all, it offers a series of sensible ideas about how to improve our sense of economics—and embrace better yardsticks to measure the world." —Gillian Tett, author of The Silo Effect

"If you thought that GDP did not necessarily translate into increased welfare, David Pilling shows convincingly why you were right. One of The Financial Times's most brilliant columnists, Pilling has produced a book that will become a classic."  —Jagdish Bhagwati, coauthor of Why Growth Matters
"In The Growth Delusion, Pilling makes an important yet complicated subject accessible to experts and non-experts alike. The book offers a most insightful and at times witty guide to the essential question: What precisely is economic growth for, and how can it be harnessed to improve the lives of people in poor countries as well as rich ones?" —Kofi Annan, former Secretary-General of the United Nations
For the last seventy years, the advanced societies of the world have used Gross Domestic Product—the staple fodder of headlines, business channels, and political debate—as the mirror for judging how beautiful they are as an economy and a society. From that perspective, the world now looks more attractive than ever; the U.S. economy itself has been growing steadily for decades. But if that's an accurate measure of our well-being, why, then, is there so much discontent out there?
"We've entered an angry age, and there are plenty of reasons for it," says David Pilling, author of THE GROWTH DELUSION (Tim Duggan Books; January 30, 2018). "But the very simple and overlooked explanation is that our principal measure of success no longer fits our daily reality. There's a massive gap between what the experts say about our lives and what our lives actually feel like."
A foreign correspondent for The Financial Times, Pilling used to include a little statistic about economic growth in almost every article he wrote. But doing that again and again made him realize how meaningless and even misleading that was, given what he saw was actually happening to people on the ground. THE GROWTH DELUSION is the outgrowth of his realization that what's important to our well-being today—from clean air and safe streets to steady jobs and sound minds—lies far outside the GDP's field of vision, which is where most of the experts have failed us.
"If GDP were a person, it would have no morality at all, since it measures production of any kind, whether it's good or bad," writes Pilling. "It likes pollution and crime, since it requires spending money to clean it up, and it likes hurricanes and wars for the same reason. It's very good at counting, but it's a very poor judge of quality, or basic decency. And it doesn't bother measuring transactions where no money changes hands."
THE GROWTH DELUSION offers a thought-provoking critique of the pieties and fallacies of our measure of economic growth, as well as witty insights into how our society can respond to the needs of real people instead of pursuing growth at any cost.
About the Author: David Pilling is an associate editor at The Financial Times, where he has reported on business, economics, and politics from London, Chile, Argentina, Tokyo, and Hong Kong. He is currently the Africa editor, based in London.
Related Posts: