Press Releases
Growing Up Psychic by Chip Coffey
My Story of Not Just Surviving but Thriving–and How Others Like Me Can, Too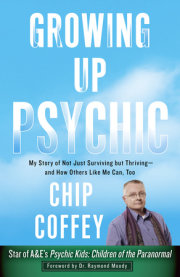 Chip Coffey
Imprint: Harmony
On sale: April 3, 2012
Price: $15
Pages: 256
ISBN: 9780307956743
Contact:
Dyana Messina
212-572-2098
dmessina@randomhouse.com
Most children bestowed with psychic gifts face the difficult decision of either keeping their abilities a tightly guarded secret or facing incredulity, skepticism, teasing, and religious condemnation, among other social stigmas. In GROWING UP PSYCHIC: My Story of Not Just Surviving but Thriving—and How Others Like Me Can, Too (Three Rivers Press Paperback Original; April 3, 2012), renowned psychic medium Chip Coffey shares with readers what it is really like to grow up with psychic abilities. More importantly, Coffey shows how those abilities can be developed and nurtured, so other psychic kids can take charge of their gift instead of allowing it to overwhelm and control them.
The star of the hit television show Psychic Kids: Children of the Paranormal, Chip Coffey is an internationally acclaimed psychic, medium, paranormal investigator, lecturer, and writer. His psychic abilities manifested themselves when he was a young child and, after successful careers in traditional counseling, the entertainment industry, and travel management, he began working full-time as a psychic and medium in 2001. Since that time, he has conducted over 20,000 readings for clients all around the world.
In GROWING UP PSYCHIC, Chip shares his personal story of discovering his gift as a child, the challenges he faced coming to terms with it, and his decision to embrace it. Based on his firsthand experience and the true stories of kids he has worked with and helped, his down-to-earth, no-nonsense, empathic, and witty approach will demystify a subject that many find strange and intimidating. As he puts it, "Being psychic—minus the woo woo—simply means being able to access energy or information that can't be accessed using the five human senses. People try to make it a lot bigger, weirder, and spookier than it really is."
By clarifying what has long been kept in the dark, he intends to reach beyond those who are already true believers in order to educate and inform a broad spectrum of readers, including parents, counselors, educators, clergy, and health care professionals, so that they, in turn, will be better able to help launch these children successfully into psychic adulthood.
About the Author
CHIP COFFEY is an internationally acclaimed psychic, medium, spiritual counselor, paranormal investigator, and lecturer. In addition to starring in Psychic Kids: Children of the Paranormal, he has made television appearances on Paranormal State, Celebrity Ghost Hunt, Good Morning America, and Larry King Live. He lives in the suburbs of Atlanta, Georgia.
Related Posts: