Press Releases
GRIDIRON GENIUS
A Master Class in Winning Championships and Building Dynasties in the NFL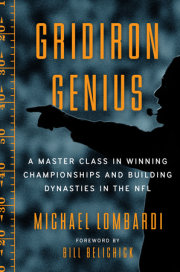 Michael Lombardi
Imprint: Crown Archetype
On sale: September 11, 2018
Price: $27.00
Pages: 288
ISBN: 9780525573814
Contact:
Ellen Folan
212.782.8944
efolan@prh.com
Former NFL general manager, three-time Super Bowl winner, and current NFL analyst for The Ringer, Michael Lombardi, distills thirty years' worth of knowledge gained working with three of the greatest minds in football—Bill Walsh, Bill Belichick, and Al Davis—to reveal what makes football organizations tick at the championship level.
ADVANCE PRAISE FOR GRIDIRON GENIUS
"Gridiron Genius is a FASCINATING read! Michael Lombardi provides a truly unique look at the inner workings and the exacting attention to detail that are paramount to succeeding at the highest level. Michael has worked in concert and in lockstep with some of the best teachers and administrators in the history of professional football. He shares true behind-the-scenes glimpses and anecdotes from our industry."
—Sean Payton
"Michael Lombardi got his master's in football from the Masters of Football—Bill Walsh, Al Davis, Bill Belichick. Now he passes those memorable lessons on to his fortunate readers so that they can receive an advanced education in coaching, personnel, management, and strategy."
—Adam Schefter, ESPN NFL Insider and author of The Man I Never Met
"My only criticism of Michael Lombardi's book is that I enjoyed it too much. The characters and stories were irresistible. But make no mistake; this is a very serious book. Lombardi extracts a meticulous and full-fledged blueprint for organizational excellence from a raft of hard evidence. This is a guidebook for excellence—and it applies way beyond the gridiron. Any thoughtful business leader, for example, could assemble a bundle of useful, integrated ideas that could transform organizational performance. Bravo!"
—Tom Peters, author of In Search of Excellence
"Simply put, Lombardi's first-person, all-access, total insider account of working with three dynastic legends is as good a behind-the-scenes sports book as I've ever read."
—Jerry Thornton, Barstool Sports
Why do some NFL franchises dominate year after year while others can never crack the code of success? For thirty years, Michael Lombardi had a front-row seat and full access as three titans—Bill Walsh, Al Davis, and Bill Belichick—reinvented the game, turning it into a national obsession while piling up Super Bowl trophies. Now, in Gridiron Genius: A Master Class in Winning Championships and Building Dynasties in the NFL (Crown Archetype; on sale September 11, 2018; Foreword by Bill Belichick), Lombardi provides a blueprint for building winners—while also outlining the mistakes that unsuccessful organizations make that keep them on the losing side time and again. Sure to be catnip for football fans, it's also a master class in leadership that extends well beyond the game.
In reality, surprisingly few coaches understand the philosophies, attention to detail, and enormous commitment that defined NFL juggernauts like Walsh's 49ers and the Patriots under Belichick. The best organizations are not just employing players; they are building something bigger. Gridiron Genius will explain how the best leaders evaluate, acquire, and utilize personnel in ways other professional minds, football and otherwise, won't even contemplate. How do you know when to trade a player? How do you create a positive atmosphere when everyone is out to maximize his own paycheck?
To some, game planning consists only of designing an attack for the next opponent. But Lombardi explains how the smartest leaders script everything: from an afternoon's special teams practice to a season's playoff run to a decade-long organizational blueprint. Readers will delight in the Lombardi tour of an NFL weekend, including what really goes on during the game, on and off the field and inside the headset. First stop: Belichick's Saturday night staff meeting, where he announces how the game will go the next day. Spoiler alert: He always nails it.
Lombardi also offers experience-tested answers to myriad other questions including:
*What is the difference between "sustainable values" and "situational values"?
*Why is the owner the most important person in the organization?
*How exactly do you conduct a predraft interview that will tell you what you need to know about a potential future employee?
*Why do visionary coaches view special teams as the foundation of a team's character?
*What is mental toughness and how do you identify it (and why do kicking units fuel most of it)?
*Why will teams in the not-too-distant future suit up two starting, rotatable quarterbacks and do away with huddles?
As football has gone from checkers to chess, football dynasties are built through massive attention to detail and unwavering commitment. From how to build a team, to how to watch a game, to understanding the essential qualities of great leaders, Gridiron Genius gives football fans the knowledge to be the smartest person in the room every Sunday.
# # #
About the Author:
MICHAEL LOMBARDI was most recently on the New England Patriots coaching staff for Bill Belichick after thirty years working in the front offices for the San Francisco 49ers, the Oakland Raiders, and the Cleveland Browns (where he was general manager). He writes for Bill Simmons's The Ringer, where he also hosts his top-ten sports podcast, GM Street.
Related Posts:
You Might Also Like