Press Releases
Graffiti artist and corporate thought leader Erik Wahl explores the power of creativity in Unthink
Rediscover your creative genius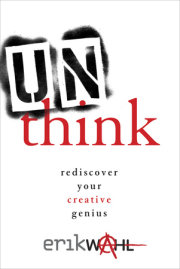 Erik Wahl
Imprint: Crown Business
On sale: June 4, 2013
Price: $23.00
Pages: 224
ISBN: 9780770434007
Contact:
Tara Gilbride
212-572-2872
tgilbride@randomhouse.com
"UNTHINK will catapult you forward to unlock and unleash your creative genius. This thought-provoking book is an extension of Erik Wahl's electrifying keynote performance that will inspire you,grow your dreams, and challenge your traditional thought patterns toachieve excellence in both business and in life."
—Ken Blanchard, Best Selling Co-Author of The One Minute Manager
"An artist, like any great catalyst or entrepreneur, is anyone who challenges conventional wisdom and inspires change," writes Wahl. "The path to fearless, boundless creativity is the destination. The journey begins now.
Part business book, part life manifesto, UNTHINK is a radical look at the work that fills our days. Do we simply try to get things done, asks Wahl, or are we striving for meaning, fulfillment, and contentment? We must do the latter, he argues, or we'll achieve our most secret fear: living a meaningless life. In the book, Wahl helps reframe how we think of the connection between our jobs and what we value as individuals. Mining examples from Microsoft, the NFL draft, 3M, the Second City acting troupe, Toms Shoes, and his own work as an artist and speaker, Wahl offers new ways of thinking about business challenges and problems in order to come to unexpected solutions. And he encourages everyone to re-evaluate their ability to create things that are meaningful and important–even if that creativity doesn't come in the form of a painting.
How to recapture the naturally creative mindset we all had as children, and channel it in our professional life;
How increased creativity leads to business breakthroughs, offering companies meaningful ROI;
Practical and effective strategies for injecting play, spontaneity, free time, adventure, and mystery into workday schedules;
How these tools can also be used by business to build an emotional connection with employees, customers, and other stakeholders, driving loyalty;
How losing his desk job a decade ago led him to mine his childhood for his next career path;
Why art can be a doorway to greater creativity—even for those who think they can't draw; and
Why Wahl never sells his paintings, but instead donates them for charitable purposes or gives them away to his fans in scavenger-hunt-style "Art Drops" in cities around the world.
Erik Wahl is an artist, author, and entrepreneur. Internationally recognized as a graffiti artist and one of the most sought after speakers on the corporate lecture circuit, Wahl's clients include AT&T, Disney, XPrize, Microsoft, Ernst & Young, Exxon Mobile, and FedEx. In the past decade, his artwork has raised over $1.5 million for charitable causes around the world.
"Ask what you believe and who you long to be," Wahl writes at the close of UNTHINK. The book offers the reader bold new ways to unwrap our minds from the cobwebs of habit and conventional wisdom, and reach a new plane of fulfillment and effectiveness at work.
Related Posts:
You Might Also Like