Press Releases
Good Things Happen Slowly by Fred Hersch
A Life In and Out of Jazz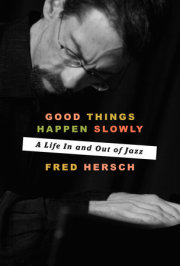 Fred Hersch
Imprint: Crown Archetype
On sale: 9/12/17
Price: $28.00
Pages: 320
ISBN: 9781101904343
Contact:
Ellen Folan
EFolan@penguinrandomhouse.com
212-782-8944
Every time Fred Hersch sits down at the piano is an act of revelation, discovery, confession, and evolution. An exploratory artist, eloquent composer, outspoken activist, influential educator, and creator of one of the most personal and expressive pianistic styles in improvised music, Hersch has led a singular life that has shaped one of the most acclaimed and influential voices in modern jazz.
Now Hersch is finally sharing his extraordinary and inspiring story in full with the publication of GOOD Things Happen Slowly: A Life In and Out of Jazz (Crown Archetype; On Sale September 12, 2017), an essential and evocative memoir of the first openly gay, HIV-positive jazz player, and a deep look into the cloistered jazz culture that made such a status both transgressive and groundbreaking.
We follow Hersch's parallel narratives—his meteoric rise to jazz prominence and his quietly harrowing personal journey toward self-discovery and acceptance—from his childhood in Cincinnati, where he began playing piano at age four and composing at eight, to the years he honed his chops in the city's fringy and tenuous early-seventies jazz scene. His prodigious talent as a sideman—one who played with the giants of the twentieth century in the autumn of their careers, including Art Farmer and Joe Henderson—blossomed further in the eighties and beyond into a compositional genius that defied the boundaries of bop, sweeping in elements of pop, classical, and folk to create something wholly new and his own. And yet for many years Fred's substantial musical success existed on a separate plane from his private life—a gay man living with HIV/AIDS—leaving him straddling two worlds that seemed irreconcilable and struggling to find a way to simply be Fred Hersch.
Through storytelling imbued with the electric beauty of Hersch's own music, GOOD THINGS HAPPEN SLOWLY is later a remarkable, at times lyrical evocation of New York in the twilight days of post-Stonewall hedonism, and a powerfully brave narrative of the illness that led to Hersch's dramatic two-month-long coma in 2007. Hersch emerged from the experience—which he describes as the "B.C./A.D. point of delineation in my history as a man and as a musician"—to create some of the finest, most direct and emotionally compelling music of his career.
To coincide with the publication of GOOD THINGS HAPPEN SLOWLY, Hersch will also release his most intimate, revealing solo recording to date with Open Book (Palmetto Records), out September 8, 2017, on CD and LP. In addition, Swell Cinema will release the intimate and delightful documentary film The Ballad of Fred Hersch on Vimeo on September 8.
About the Author
FRED HERSCH has spent more than three decades as an improviser, composer, educator, bandleader, collaborator, and recording artist. He is a ten-time Grammy Award nominee, and has been hailed by Vanity Fair as "the most arrestingly innovative pianist in jazz over the last decade." He is the winner of countless prizes and awards, and was the recipient of a Guggenheim Fellowship in 2003. The first openly gay, HIV-positive jazz musician of note, he has for two decades been a passionate spokesman and fund-raiser for AIDS services and education agencies. His latest album, with his trio, is Sunday Night at the Vanguard. He lives in New York City and Pennsylvania with his partner, Scott Morgan.
Related Posts:
You Might Also Like