Press Releases
In Such Good Company by Carol Burnett
Eleven Years of Laughter, Mayhem, and Fun in the Sandbox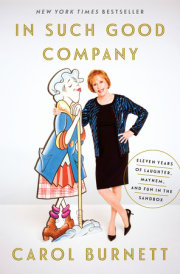 Carol Burnett
Imprint: Crown Archetype
On sale: September 13, 2016
Price: $28.00
Pages: 320
ISBN: 9781101904657
Contact:
Tammy Blake
212-572-2542
TBlake@penguinrandomhouse.com
"It was a great decade for variety. . . . We taped our show on Fridays, in Studio 33 at CBS Television City in Hollywood. Sonny and Cher were taping in the studio next door to us. . . . A couple of times, both Sonny and Cher would do a surprise walk-on, much to the delight of our audience. The Smothers Brothers taped across the hall. During breaks, some of their writers—Steve Martin—would come over and watch us block a musical number or a sketch. Friday at CBS Television City was like one big dorm, buzzing with unbelievable talent."
—From IN SUCH GOOD COMPANY
---
The sidesplittingly funny spoofs. The outrageous costumes. The Tarzan yell. From 1967 until 1978, America had a standing date with Carol Burnett, tuning in each week for hilarity to the hilt on a variety show that was in a class by itself. Capturing the hearts of viewers of all ages (while winning a whopping 25 Emmy Awards), "The Carol Burnett Show" combined wildly creative sketch comedy with elaborate mini-musicals. But her unique personal touches—from Burnett's unscripted audience Q&A at the beginning of each show to her tradition of signing off with the song "I'm So Glad We Had This Time Together"—made it truly special. Now the iconic entertainer tells the little-known stories behind her television triumphs, with IN SUCH GOOD COMPANY: Eleven Years of Laughter, Mayhem, and Fun in the Sandbox (Crown Archetype, on sale September 13, 2016), chatting about such topics as:
Vicky, Harvey, Tim, and Lyle: From the auspicious fan letter sent by a high-school senior named Vicki Lawrence (who would soon become Burnett's protégé and a star in her own right) to friend Carl Reiner's suggestion that Burnett hire a hunky announcer (Lyle Waggoner), fans will revel in the friendships and the chemistry that made the show's cast such an endearing, enduring combination. Tim Conway's brilliant, nutty ad libs made it a challenge for his co-stars to keep a straight face; he was the perfect foil for the slick Harvey Korman, who finally agreed to join the show after Burnett overpowered him in a parking lot.
The magic behind the scenes: Burnett celebrates dozens of less visible members of the team, including writers, crew members, directors, and renowned costume designer Bob Mackie (who dreamed up sixty to seventy costumes a week, including the wildly funny curtain dress, complete with curtain rod, fringe, and tassels, that she wore in a parody of Gone with the Wind).
Paving the way for women in comedy: Burnett revisits 1966, when she proposed her idea for the show to a network executive and was was rejected. Variety shows were considered a man's game. The pinnacle for a female comedian was to star in a sitcom like "I Love Lucy" (and Lucille Ball indeed became one of her mentors). But Burnett, determined to make her way from Broadway to the small screen on her own terms, invoked an overlooked clause in a contract she had signed with CBS. Forcing the hand of her naysayers, she made history—and proved them all wrong, paving the way for the likes of Tina Fey, Amy Poehler and Maya Rudolph, among others.
A happy-go-lucky leadership style: In an age of ever-escalating diva behavior, Burnett emerges as a refreshing example of a mega-star who never let power go to her head—with zero tolerance for crankiness on her show. She even managed to transform the sometimes sullen Harvey Korman into a cheerful colleague, culminating in him posting a sign on his dressing-room door that read happy go lucky. What's more, Burnett planned each work week so carefully that she never had to miss her favorite soap opera ("All My Children"), and had time to take her kids to school every morning.
The mysterious Charwoman: She never spoke; she only sang, but Charwoman, dressed in a ratty sweater and boots, with a mop as her only prop, let Burnett's humility and hilarity shine through. Burnett writes about the origins of the Charwoman character and how it became the show's hallmark.
Star-studded antics: Burnett recalls the brilliantly crafted recurring characters her fans looked forward to seeing (including Eunice, Ed, and Mama, who would eventually headline the show "Mama's Family"), and showcases the many classic movie spoofs that kept her audience rolling in the aisles, from Mildred Fierce (which Joan Crawford loved) to Pillow Squawk. In addition, she provides captivating recollections of the many superstars, including Betty Grable, Betty White, Rock Hudson, Sammy Davis, Jr., and other legends who had a blast cutting loose as guests on Burnett's stage.
Though the show ended its 11-year run in 1978, new fans continue to discover it the syndicated "Carol Burnett and Friends," the show's YouTube channel, and the recently released DVD set containing, for the first time, all 11 seasons of the show. Like a backstage pass to a once-in-a-lifetime performance IN SUCH GOOD COMPANY brings to life an era for everyone who loves great entertainment.
Related Posts:
You Might Also Like