Press Releases
HERE AND GONE by Haylen Beck
A Novel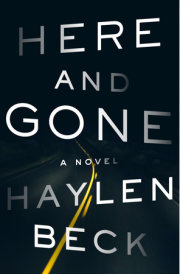 Haylen Beck
Imprint: Crown
On sale: June 20, 2017
Price: $26.00
Pages: 304
ISBN: 9780451499578
Contact:
Sarah Breivogel
212-572-2722
sbreivogel@penguinrandomhouse.com
Praise for Here and Gone by Haylen Beck
"In Here and Gone [Beck] uses intense suspense and exquisite language to tell the story of a grim part of society. But he also shows us the power of inner strength and the grandeur of human dignity."
—Irish American News
"[A] "remarkable piece of suspense . . . the perfect handoff for fans desperate for "something like" Lee Child, Harlan Coben, and Lisa Gardner . . . Don't be surprised if this one becomes the thriller everybody is reading this summer."
—Booklist (starred review)
"Beck . . . keeps the pages turning with plenty of suspenseful twists and turns."
—Library Journal (starred review)
"A fantastic thriller—a lone woman, a nightmare scenario, high stakes, breathless suspense, and a satisfying conclusion. It doesn't get better than this."
—Lee Child, #1 New York Times bestselling author of the Jack Reacher thrillers
"An almost unbearably tense nail-biter of a novel. Cancel all your plans
and settle in for the ride."
—Ruth Ware, New York Times bestselling author of The Woman in Cabin 10 and In a Dark, Dark Wood
"Packed with smart twists and unforgettable characters, Here and Gone is one of the best debuts of the year. Highly recommended."
—Harlan Coben, #1 New York Times bestselling author of Fool Me Once and Home
In his captivating new novel HERE AND GONE (Crown, June 20, 2017), Haylen Beck, who also writes as Stuart Neville—the acclaimed Edgar Award–nominated author whose crime fiction has won the Los Angeles Times Book Prize and has made numerous best-of-year lists including the New York Times—invites readers to imagine a truly terrifying scenario and the lengths parents will go to protect their children. The novel, inspired by Beck's love of American crime writing and also the first book he has set in the United States, opens on an isolated road in Arizona with Audra Kinney, a desperate woman with a troubled past, fleeing her abusive husband in the family car with her two young children, Sean and Louise, in tow. Desperate not to draw attention, Audra is petrified when she is pulled over by the local sheriff. A run-of-the-mill stop quickly spirals as Audra is arrested for possession of marijuana, which she claims isn't hers, and a promise that her children will be taken "somewhere safe." What happens next is every parent's worst nightmare: one minute her children are there, the next they are gone. As Audra is pulled into a he-said, she-said with law enforcement, a media firestorm kicks off, and she is soon the main suspect in her children's disappearance.
Meanwhile, in California a man hears about the news reports out of Arizona, which are eerily similar to events in his own past. The clock is winding down on the search for the missing children when Danny Lee makes a decision that will draw him deep into Audra's world.
As the story alternates between characters, HERE AND GONE reveals the disturbing underbelly of the Internet—a place where many things are bought and sold. The idea for the novel came as a line of dialogue Beck first penned and couldn't shake: "See, there's a man who'll pay me a million dollars a child. Three million for a pair." The story sat in the back of his mind for nearly a year before a trip to Arizona offered him the opportunity to flesh out many of the details in the novel.
HERE AND GONE is a heart-stopping, twisting psychological thriller introducing a remarkable writer to a new genre. The novel was sold in several high-octane international auctions, and the film rights have already been acquired by Random House Studio, the production company behind the critically acclaimed Reservation Road, as a basis for a feature film co-produced by James Schamus, the award-winning writer of Brokeback Mountain and Crouching Tiger, Hidden Dragon.
When a heinous crime is committed, we turn to the police, but what happens when those sworn to protect the innocent are deeply involved? HERE AND GONE is the story of a mother's world-shattering loss of her children, and her fight against power and corruption to get them back.

* * * * *

About the Author:
HAYLEN BECK is the pen name of internationally acclaimed, prizewinning crime writer Stuart Neville. Neville won the Los Angeles Times Book Prize for his Serena Flanagan detective series set in Belfast, was nominated for an Edgar Award, and made best-of-year lists with numerous publications, including the New York Times, the Los Angeles Times, and the Boston Globe. His Haylen Beck novels are set in the United States and inspired by his love of American crime writing.
Related Posts:
You Might Also Like