Press Releases
GONE: A Girl, a Violin, a Life Unstrung, by Min Kym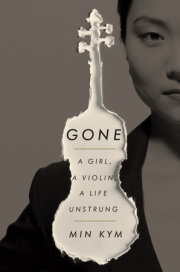 Min Kym
Imprint: Crown
On sale: April 25, 2017
Price: $25.00
Pages: 240
ISBN: 9780451496072
Contact:
Rebecca Welbourn
212-782-9634
rwelbourn@penguinrandomhouse.com
Select Advance Praise for GONE 
"The hours fell away as I read this spellbinding tale of love, loss, and above all devotion to art. You probably don't know what it feels like to be a child prodigy or a world-class violinist, but you will after reading this luminous memoir. And though you may already know what it means to grieve and to love, you've never had the chance to experience these things through the far-seeing eyes of Min Kym." —SUSAN CAIN, New York Times bestselling author of Quiet
"A pellucid memoir of letting go and coming to terms." —Kirkus Reviews
"Kym's evocative writing style will make even nonmusicians appreciate her passion for music and for her violin." —Booklist
---
Violinist Min Kym—praised by the legendary conductor Sir Georg Solti for her "exceptional natural talent, mature musicality, and mastery of the violin"—was at the bright dawn of her soloist career when fate intervened: her 1696 Stradivarius, the instrument that defined her both onstage and off, was stolen. In her spellbinding memoir GONE: A Girl, a Violin, a Life Unstrung (April 25, 2017, Crown), she tells the story of growing up as a child prodigy, reckoning with the loss of her violin, and discovering the music and power of her own voice.
Born in South Korea and raised in London, Min began playing the violin when she was six years old, and by the age of seven she was the youngest ever student at England's famed Purcell School for Young Musicians. At eleven, she won her first international prize, and at sixteen, she became a foundation scholar at the Royal College of Music. At twenty-one, she found "the one," the violin she knew could transform her from precocious youth to virtuoso: a rare 1696 Stradivarius, slender and feather-light, a "thoroughbred," with a gloriously pure sound. It fit her in every way; it made her feel "possessed, limitless." Her career soared. She recorded the canonical Brahms concerto for Sony, and a world tour was planned.
Then, in 2010, her priceless violin was stolen from a London café. She felt as though she had lost her soulmate, and with it her identity. Overnight, she became unable to play or function, haunted by worldwide media reports of the theft. Her tour was canceled. When, two years later, the police recovered her violin, she was unable to raise the seven-figure sum needed to repay the insurance company that now owned it. The violin—her violin—would be sold to a collector, and she might never see it again.
In this transfixing memoir, Min traces the before and after of her loss. She sees with new eyes the isolation of growing up as a prodigy; her combustible relationships with teachers and romantic partners; and her navigation of two very different worlds, her family and her music. And in the stark yet clarifying light of her loss, she rediscovers her voice and herself.
A companion album featuring nine of Min Kym's recordings was released by Warner Classics on March 31. Gone: The Album features the young virtuoso's performance of the Brahms Violin Concerto with the Philharmonia Orchestra and maestro Sir Andrew Davis—in which she plays the violin that was cruelly stolen from her—as well as the Rondo from Lalo's Symphonie Espagnole, recorded with the London Symphony Orchestra at the famed Abbey Road Studios. There are also chamber music recordings (Brahms Sonata No. 3) and music from Min Kym's private collection of recordings she made at the Royal College of Music as a star student. Most of the music on the album has never before been released.
The simultaneous release of book and album makes it possible to follow Min's journey in both words and music, using the album as the "soundtrack" to the book. Every time she describes playing a piece of music that is featured on the album, a symbol appears in the margins of the pages (or the text of the ebook), indicating that there is a track the reader can listen to. Gone: The Album will be available for streaming, download, and on CD from Apple Music, Spotify, Amazon, and selected music and book retailers.
Related Posts:
You Might Also Like