Press Releases
Going Off Script
How I Survived a Crazy Childhood, Cancer, and Clooney's 32 On-Screen Rejections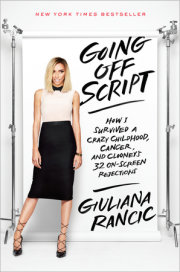 Giuliana Rancic
Imprint: Crown Archetype
On sale: April 7, 2015
Price: $26.00
Pages: 272
ISBN: 9780553446654
Contact:
Ellen Folan
212-782-8944
efolan@penguinrandomhouse.com
A witty, warm, and inspiring memoir from the E! News anchor, red-carpet correspondent, author, and reality show star Giuliana Rancic

GOING OFF SCRIPT:
How I Survived a Crazy Childhood, Cancer, and Clooney's
32 On-Screen Rejections
Giuliana Rancic is best known for interviewing A-listers on the red carpet and E! News, skewering their questionable style choices on Fashion Police, and giving viewers a front-row seat to her marriage and family life on her popular reality show, Giuliana & Bill. What fans may not know is that she learned English from Eddie Murphy, got her American citizenship so she could be a beauty queen, and used to have a bad habit of stealing cars for fun.
Giuliana bares this and so much more in her hilarious and uplifting memoir, GOING OFF SCRIPT: How I Survived a Crazy Childhood, Cancer, and Clooney's 32 On-Screen Rejections (Crown Archetype; April 7, 2015; Hardcover). From a young age she dreamed of being a TV anchorwoman but, because of her inclination toward mischief and away from schoolwork, her path to her dream job was far from straight. After a fateful (and mortifying) encounter with the late Senator Ted Kennedy, she learned that Hollywood news was where she belonged. Thankfully for readers, this epiphany led her to a bounty of LA misadventures (featuring notables such as Johnny Depp, Leonardo DiCaprio, and Russell Crowe) and an entertaining behind-the-scenes perspective on what our favorite celebrities are really like.
In spite of her glamorous Hollywood life, however, Giuliana could not escape some rockier times, including her battles with infertility and breast cancer. Here, for the first time ever, she reveals the whole truth behind her well-publicized struggles and the highly controversial decisions she had to make. And, of course, at the heart of it all are the two loves of her life who keep her strong through everything, her husband, Bill, and her son, Duke.
Candid, funny, and poignant, GOING OFF SCRIPT is an autobiography that proves you don't always have to follow the rules to get the life you've always dreamed of.
###
About the Author:
GIULIANA RANCIC was born in Naples, Italy, and moved to the United States when she was six. She is the anchor and managing editor of E! News, a world-renowned red-carpet interviewer, the author of Think Like a Guy, and the co-author of I Do, Now What? with her husband, Bill Rancic. She also costars with Bill on E!'s hit reality show Giuliana & Bill and grants wishes to women with cancer through her charity, Fab-U-Wish. Giuliana resides in both Los Angeles and Chicago with her husband and son, Duke.
Related Posts:
You Might Also Like