Press Releases
THE GLORIOUS HERESIES by Lisa McInerney
Winner of the 2016 Baileys Women's Prize for Fiction and the 2016 Desmond Elliott Prize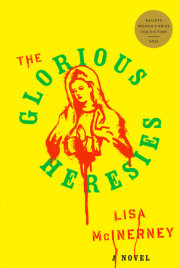 Lisa McInerney
Imprint: Tim Duggan Books
On sale: August 9, 2016
Price: $27.00
Pages: 400
ISBN: 9780804189064
Contact:
Rebecca Welbourn
212-782-9634
rwelbourn@penguinrandomhouse.com
*SHORTLISTED FOR THE BEST NEWCOMER AT THE IRISH BOOK AWARDS*
*LONGLISTED FOR THE INTERNATIONAL DYLAN THOMAS PRIZE*
*AN IRISH TIMES BOOK OF THE MONTH*
Advance U.S. Praise for The Glorious Heresies
"The Glorious Heresies is a blisteringly good debut which manifests the true coming of a brilliant new energy in Irish fiction. It's a love story which captures perfectly the feeling of what it is to be young and bowled over by the beauty of another; it's the story of a city, savage and hilarious and coursing deeper and deeper, with every page into that city's dark veins. It's so much more. It's talent, undeniable and aglow." —Belinda McKeon
"In the style of Colm Tóibín, there is great intensity to McInerney's prose. . . . This gritty, urban character study will be perfect for readers favoring strong blends of literary and crime fiction, overlaid with striking dark comedy. —Booklist
"Biting… McInerney displays a clear knack for dramatic flourish and witty turns of phrase." —Publishers Weekly
"[A] colorful, ambitious first outing." —Kirkus Reviews
"This book is a riot . . . McInerney's sentences are like snowballs rolling down a hill, accumulating jokes and fecks and similes spun from pitch-black humor." —BOMB
International Praise for The Glorious Heresies
"The Glorious Heresies heralds the arrival of a glorious, foul-mouthed, fizzing new talent." —The Sunday Times
"A spectacular debut . . . Tough and tender, gothic and lyrical, it is a head-spinning, stomach-churning state-of-the-nation novel about a nation falling apart." —The Telegraph
"Here's a writer who's totally and unmistakably the real deal and whose every page pulses with vim and vitality and mad twisty insights and terrific description and with real tenderness, too." —Kevin Barry
"Fiendishly hilarious." —The Times
"A rich, touching, hilarious novel." —Financial Times
"A gripping and often riotously funny tale . . . McInerney gives us a memorable cast that is tough as nails, savagely articulate, and helplessly human." —Colin Barrett
"A real stunner; a wild ride of a read." —Donal Ryan
"A punchy, edgy, sexy, fizzing feast of a debut novel from an immensely skilled storyteller with a glorious passion for words. I loved it." —Joseph O'Connor 
"McInerney has talent to burn." —The Guardian
"A superb debut from a confident and comic writer." —Mail on Sunday
"A big, brassy sexy beast of a book." —The Irish Times
"This is a daring, exuberant, and generous novel. And a work to which you will want—eagerly—to return." —The Observer
"Impressive and imaginative . . . a superb debut from a confident and comic writer with no fear of taking on serious material; McInerney is a new talent to watch out for." —Irish Mail on Sunday
---
Lisa McInerney has been hailed as "arguably the most talented writer at work in Ireland today" (The Irish Times) and her arresting debut novel, THE GLORIOUS HERESIES (August 9, 2016; Tim Duggan Books), set in the shadowy landscape of the Cork criminal underworld, arrives in the United States on a wave of stunning international acclaim, including raves in the Telegraph, Sunday Times, Observer, and more. McInerney's short stories have been featured on BBC Radio 4, in Granta, in The Stinging Fly, and in the anthologies The Long Gaze Back and Faber's Town and Country. She is also the author of an award-winning blog about working-class life in a council estate and lives in Galway with her husband and daughter.
In this gritty, darkly comic novel, McInerney crafts a twisted web of shifting loyalties and betrayals while interrogating notions of salvation, shame, and the legacy of Ireland's past attitudes towards sex and family. She quietly explores money, violence, and the unbreakable bonds we form with each other through the story of one accidental murder and its rippling effects on five people who exist on the fringes of Ireland's post-crash society.
Maureen, the unapologetic murderer of an interloper in her kitchen, has returned to Cork after forty years in exile to discover that Jimmy, the son she was forced to give up years before, has grown into the most feared gangster in the city. One of his henchmen, Tony, is an alcoholic whose entanglement with his meddlesome next-door neighbor threatens to ruin him and his family—including his son, Ryan, a fifteen-year-old drug dealer desperate to forge a new life for himself and his beloved girlfriend. And Georgie, a prostitute and former girlfriend of the man Maureen murdered, decides to look into his disappearance, with dangerous repercussions. In seeking atonement for the murder and a multitude of other perceived sins from her past, Maureen threatens to destroy everything her son has built and bring the intertwined lives of the Irish underworld into the spotlight.
Written with McInerney's unmistakable voice and undeniable heart (and enough violence to rival playwright Martin McDonagh), THE GLORIOUS HERESIES shines a light on the darkest corners of contemporary Ireland and still manages to find good in people, regardless of profession or place in society. Biting, candid, and darkly funny, THE GLORIOUS HERESIES marks the arrival of one of the most original new voices in contemporary fiction, a book whose lyrical prose and expansive, generous vision instantly establish it as a classic of Irish literature.
Related Posts: