Press Releases
GLOCK The Rise of America's Gun by Paul M. Barrett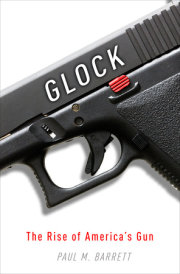 On sale: January 1, 1970
Price: $
ISBN: 9780307719935
Contact:
Sarah Breivogel
212-572-2722
sbreivogel@randomhouse.com
This January, on the heels of the one-year anniversary of the
Tucson mass shooting, comes a riveting and meticulously researched tale of an unknown company that built its empire on the weapon that has become known as "America's gun:"
 
GLOCK
The Rise of America's Gun
by Paul M. Barrett
 Based on fifteen years of research, including interviews with numerous former Glock executives, police officials, gun owners, and more, GLOCK: The Rise of America's Gun (Crown; January 10, 2012) by Paul M. Barrett tells the story of how an obscure Austrian curtain rod manufacturer stormed the American gun market and became, in the space of a few years, an American icon. GLOCK is at once a fascinating account of how Glock Inc. went about marketing its pistol to police agencies, gun enthusiasts, and America at large, as well as a compelling chronicle of gun safety and gun culture in America.
When Gaston Glock first cracked the gun industry in 1982 with the Glock 17 pistol he created to win a contract from the Austrian army, most civilian American gun owners and police officers still preferred the six-round revolver. Constructed in part of hardened plastic, which gun-control advocates and the media erroneously claimed made the gun invisible to airport security, the Glock's construction set it apart from everything else on the market. It had none of the polish of the classic blued-steel-and-wood revolver. But the advantages of the large-capacity, magazine-loaded semiautomatic pistol soon became apparent. The Glock could fire as many as seventeen bullets without reloading. Built with only thirty-six parts that were interchangeable with other models (as compared to other pistols made by Beretta, Sig, and Steyr that had twice as many parts), it was easy to maintain and rarely misfired. You could dunk it in water, drop it from a helicopter, or leave it out in the snow and it would still fire. It was reliable, accurate, lightweight, and cheaper to produce than the Smith & Wesson .38, which was the favorite at the time of law enforcement agencies. Within a decade of arriving in the US, the Glock had become the ultimate American handgun.
First introduced to cops, who saw themselves as outgunned by violent cocaine gangs, the Glock is today embraced by two-thirds of all police departments. It has been glamorized in countless Hollywood movies, including Die Hard 2 and U.S. Marshals ("Get yourself a Glock, and lose that nickel-plated sissy pistol"), and is a ubiquitous presence on prime-time TV. The Glock has also made headlines for a far more somber reason: its use in an alarming number of recent killing sprees. From Virginia Tech in 2007 to Tucson, AZ in January 2011, the shooter fired a Glock.
Filled with corporate intrigue, political maneuvering, marketing manipulation, Hollywood glitz, bloody shootouts—and an attempt on Gaston Glock's life by a former director and corporate trustee—GLOCK is a fast-paced history of the Glock and a must-read for anyone interested in handguns, the firearm industry, or the level of gun violence in America.
* * * * *
ABOUT THE AUTHOR
PAUL M. BARRETT is an assistant managing editor at Bloomberg Businessweek. He is the author of American Islam: The Struggle for the Soul of a Religion and The Good Black: A True Story of Race in America. Barrett lives and works in New York City.
*Barrett will be available for interviews January 16–18 from the SHOT Show in Las Vegas. The annual Shooting, Hunting, Outdoor Trade Show is the largest of its kind for the shooting sports, self-defense, hunting, and law enforcement industries. Barrett will be at the show and will be available to do live interviews, provide online Q&A, or send written dispatches about the latest developments in the gun and ammunition business. It is a colorful scene, and Glock is always at the center of the action.
Related Posts:
You Might Also Like