Press Releases
Global Tilt: Leading your business through the great economic power shift by Ram Charan
Bestselling author and renowned business guru Ram Charan explains why the world's economic power is tipping from the North to the South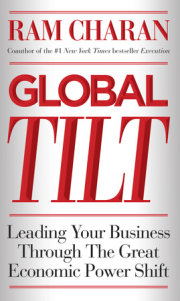 Ram Charan
Imprint: Crown Business
On sale: February 26, 2013
Price: $28.00
Pages: 336
ISBN: 9780307889126
Contact:
Tara Gilbride
212-572-2872
tgilbride@randomhouse.com
Having plummeted from the highs of the last economic boom, we are now operating in the most troubled economy of the past 50 years – an economy that is globally interconnected and immensely complex. Businesses are frantically trying to find their way in the newly reworked landscape, where the rules of the game seem unclear and unfair, and companies compete not only with other companies but also with countries. 
In his new book, GLOBAL TILT: Leading Your Business Through the Great Economic Power Shift, renowned leadership expert Ram Charan draws on more than three decades of working with businesses worldwide to offer insight for leaders operating in this new competitive arena.
Charan argues that the balance of economic power has dramatically shifted. The world is now tilted from North to South, from above the 31st parallel to just below it. While not an exact line of demarcation, the 31st parallel is the latitude that separates the U.S., Europe, and Japan from the countries that are driving the new order: India, China, and Brazil, among them. According to Charan, businesses of the South have speed, momentum, energy and optimism; they are growing fast and have begun to challenge companies based in the North. "Political power will shift along with economic power," Charan says. "The movement is already underway."
What's at Stake?
One billion new consumers have joined the world economy in the past 10 years, and 2 billion more are coming in the next 10.  This new consumer base—much of it middle class—will add roughly $10 trillion to the global economy in the coming decade.  The North stands to miss out on this growth and lose jobs to countries of the South if businesses don't seize global opportunities.  Leaders of Northern companies have a narrow window of time in which to make a decisive shift in their approach to running the business. If they hesitate, they may not only lose the chance to gain footing in the South, but they may also be more vulnerable to attacks on their home turf later on.
Competing in the GLOBAL TILT:
How do you compete if you're a leader in a North company? You cannot rely on traditional approaches to strategy and execution. What matters most is mastering the global context better than others. You must understand the dynamics of the global economy, and develop new mindsets for searching out opportunities. Businesses in the North have been trained by the past decades of slow growth to look for incremental gains – they are thinking small. Meantime, in the South, leaders see an enormous opportunity ahead and are making big bets and strategic moves to get in fast and early.
Charan has identified four key moves for companies determined to stay relevant as the economy shifts: 
Get a firm grasp on the immensity of the opportunity, and move decisively into the markets you choose to pursue.
Consider whether your company needs to acquire or build new capabilities to expand to those markets.
Put managerial muscle and ample resources into the new markets while continuing to grow and defend your business in the North.
Fight the short-term beast of shareholder return:  it may take a longer time frame for these global markets to deliver profits.
Leading in the GLOBAL TILT:
It is crucial that leaders in the North change how they think about strategy.  They need to broaden their lens and extend their time frame.  In short, they need to think outside-in and future-back:  
Outside-In means looking at the business through the lens of a leader sitting elsewhere and identifying global trends and opportunities without the existing assumptions, biases, and rules of thumb.
Future-Back requires leaders to think longer term as they assess the world and imagine what the competitive landscape will be some 20 years out.  Then they need to consider what they must do in the present to realize the opportunities they see.
Leaders must also rapidly master the local context for markets they enter – not just laws and mores, but also more subtle aspects of the culture that matter when conducting business. They have to be able to cut through those different contexts to the business fundamentals.  They must boldly create a tangible vision that is understood and inspires their team to conquer this new challenge.  And they must mobilize their social organizations by making necessary and sometimes difficult shifts in decision making power and resources. 
In GLOBAL TILT, Charan helps business leaders grasp the changes that are underway and provides a new playbook to succeed in this emerging business landscape.  He explains the new approaches to strategy making, organization, and leadership that prepare companies to spot opportunities and win in a tilted world.
Related Posts:
You Might Also Like