Press Releases
Giada's Italy by Giada De Laurentiis
My Recipes for La Dolce Vita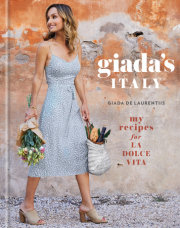 Giada De Laurentiis
Imprint: Clarkson Potter
On sale: March 27 2018
Price: $35.00
Pages: 288
ISBN: 9780307987228
Contact:
Jana Branson
jbranson@penguinrandomhouse.com
Giada De Laurentiis's love of food began at home and at the kitchen table of her Italian family. Born in Rome, Giada grew up in Los Angles eating prosciutto, olive oil, and Parmigiano-Reggiano when other kids were eating peanut butter and jelly on Wonder bread. At home, she learned to embrace the traditions that define la dolce vita.
In her most personal cookbook yet, Giada's Italy: My Recipes for La Dolce Vita (Clarkson Potter; $35.00; on sale March 27, 2018), Giada invites fans and home cooks to dive deeply into the flavors and stories that have inspired her life's work.
In Giada's Italy, Giada shares recipes for her family's authentic Italian dishes while infusing them with contemporary, fresh flavors to make them her own. With chapters and recipes that reflect the way Italians like to eat, Giada's Italy will help readers channel the spirit of those big-hearted Italian cooks and rediscover the simple pleasures of sharing food with the people you love. Chapters and recipes include: 
STARTERS: Burrata with Nectarines and Corn; Antipasti in a Jar; Spicy Calabrian Shrimp
LUNCH: Roman Seafood Chowder; Sardinian Pasta Salad; Marinated Salumi Sandwich
IN-BETWEENS: Lemon White Pizza; Crostini with Smoked Trout; Mortadella Piadina
WEEKNIGHTS: Penne with Corn and Spicy Sausage; Bitter Rice; Monkfish Cacciatore
LA DOLCE VITA: Spicy Lamb Bolognese; Barolo-Braised Short Ribs; Hazelnut Chicken
SIDES: Italian Carrot Salad; Warm Mushroom Salad Fiorentina; Zucchini Sottolio
SWEETS: White Chocolate Orzo Pudding; Pound Cake with Limoncello Zabaglione
Filled with gorgeous photography of Rome, peppered with family stories, and complete with Giada's tips and advice for cooking up fabulous meals with ease, Giada's Italy is a stunning celebration of Italy's flavors as only Giada could present them.
ABOUT THE AUTHOR
GIADA DE LAURENTIIS is the Emmy Award–winning star of Food Network's Everyday Italian, Giada at Home, Giada's Holiday Handbook, and Giada in Italy; she is also a judge on Food Network Star, a contributing correspondent for NBC's Today show, and the author of eight New York Times bestselling books. She attended the Cordon Bleu cooking school in Paris and worked at Wolfgang Puck's Spago restaurant before starting her own catering company, GDL Foods. Born in Rome, Giada grew up in Los Angeles, where she now lives with her daughter, Jade.
 GIADA'S ITALY
My Recipes for La Dolce Vita
by Giada De Laurentiis
Clarkson Potter/Publishers
March 27, 2018
ISBN: 978-0-307-98722-8 • $35.00 • Hardcover
Related Posts: