Press Releases
GHOSTS FROM OUR PAST
Both Literally & Figuratively: The Study of the Paranormal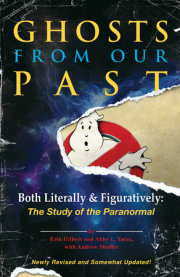 Erin Gilbert & Abby L. Yates (with Andrew Shaffer)
Imprint: Three Rivers Press
On sale: 6/28/16
Price: $15.00
Pages: 224
ISBN: 9781101906002
Contact:
Rebecca Marsh
212-572-2544
rmarsh@penguinrandomhouse.com
 As seen in the new movie Ghostbusters, the ultimate guide to identifying, understanding, and engaging with any paranormal activity that plagues you
Years before they started saving the world and battling the supernatural as Ghostbusters, Erin Gilbert and Abby L. Yates published the groundbreaking study of the paranormal, Ghosts from Our Past. Once lost to history, this criminally underappreciated book is now back in print, revised and somewhat updated for the new century. GHOSTS FROM OUR PAST: Both Literally and Figuratively: The Study of the Paranormal (Three Rivers Press; Trade Paperback Original; $15.00; On Sale June 28, 2016) is the ultimate guide to understanding and identifying paranormal pests, and stopping their moaning, shrieking, and rattling once and for all.
According to Gilbert and Yates, "extraordinary claims require extraordinary evidence," and whether you're a believer or a skeptic, you'll find the information you're seeking right here in this extraordinary book. Inside, they share both their deeply personal experiences with the supernatural and theories about what ghosts are and why they haunt. They also arm readers with helpful, guidebook-like descriptions of various paranormal phenomena as well as basic explanations of the science behind catching them (not to mention some handy tips on how to clean up slime they leave behind).
Among the many important resources to be found in GHOSTS FROM OUR PAST:
The childhood experiences that inspired Erin's and Abby's lifelong passion for the scientific study of the paranormal;
The history of ghosts and other supernatural entities, the science that explains their existence, and profiles of the groundbreaking paranormal researchers who have investigated them;
An illustrated guide to Class I through Class VII ghosts;
Helpful sidebars like "A Ghost by Any Other Name" and "Ectoplasm Cleanup Tips";
Updates including "The Ghostbusters' Arsenal" by Jillian Holtzmann and "Haunted History" by Patty Tolan;
A new Ghostbusting Resources appendix, featuring "Paranormal Quickstart Guide," "Is It a Ghost? A Handy Quiz," "Supernatural Stakeout Journal," "The Devil's Dictionary: Paraterminology You Need to Know," and more.
With this helpful—and hilarious—official Ghostbusters guide in hand, you'll be prepared for almost any spirit, spook, or specter that comes your way. For the rest, you know who to call.
***
ABOUT THE AUTHORS
Erin Gilbert and Abby L. Yates are frenemies, intellectual rivals, and cofounders of the Ghostbusters.
Andrew Shaffer is the author of humorous nonfiction and fiction, including How to Survive a Sharknado, Literary Rogues, Great Philosophers Who Failed at Love, and, under the pen name Fanny Merkin, Fifty Shames of Earl Grey. His writing has been published in such diverse places as Mental Floss, Maxim, and The Daily Beast. He has appeared as a guest on Fox News, CBS, and NPR, and his irreverent greeting cards were featured on The Colbert Report.
ABOUT THE MOVIE
Ghostbusters makes its long-awaited return, rebooted with a cast of hilarious new characters. Thirty years after the beloved original franchise took the world by storm, director Paul Feig brings his fresh take to the supernatural comedy, joined by some of the funniest actors working today—Melissa McCarthy, Kristen Wiig, Kate McKinnon, Leslie Jones, and Chris Hemsworth. This summer, they're here to save the world! The film is produced by Ivan Reitman and Amy Pascal, and written by Katie Dippold and Paul Feig, based on the 1984 film Ghostbusters, written by Dan Aykroyd and Harold Ramis and directed by Ivan Reitman. The film will be released in theaters nationwide on July 15, 2016.
For more information, check out www.ghostsfromourpast.com
Related Posts: