Press Releases
Getting Religion
By Kenneth Woodward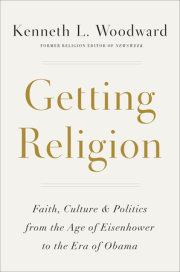 Kenneth Woodward
Imprint: Convergent
On sale: 9/13/2016
Price: $30.00
Pages: 464
ISBN: 9781101907399
Contact:
Megan Perritt
212-572-2543
mperritt@penguinrandomhouse.com
PRAISE FOR GETTING RELIGION 
"In this thoughtful book, Ken Woodward offers us a memorable portrait of the past seven decades of American life and culture. From Reinhold Niebuhr to Billy Graham, from Abraham Heschel to the Dali Lama, from George W. Bush to Hillary Clinton, Woodward captures the personalities and charts the philosophical trends that have shaped the way we live now."
–Jon Meacham, Pulitzer Prize winner and author of Destiny and Power
"For decades, Kenneth Woodward covered religion like no one else in the field: with a keen intellect, an open mind, a big heart, and most of all, the inability to write a dull sentence. In his new memoir, which mixes his own religious upbringing with a typically clearheaded analysis of the times in which he lived (and on which he reported), he takes us on a fascinating journey of what he rightly calls the most volatile religious period in American history.  You may open the book for the historical tour, but you'll stay with it because of your brilliant guide."
–James Martin, SJ, New York Times bestselling author of Jesus: A Pilgrimage
"Woodward's book is brilliant—lively, historically informed, and spiced throughout with his trademark wit. Having personally witnessed many of most important events in American religion over the past half century, Woodward provides close-up, moment-to-moment reality to stories others often missed. His judgments are consistently edgy but also appreciative of the achievements of the era's key players he came to know so well."
–Grant Wacker, Gilbert T. Rowe Professor Emeritus of Christian History, Duke Divinity School
"Not since de Tocqueville's Democracy in America, has there been such a personal and insightful survey of religion in American life. Ken Woodward's Getting Religion is in some ways even better because de Tocqueville was a just visitor to America while Woodward is a sympathetic insider who loves church and state as well as the separation between them that mutually enriches both.  This is a masterful record of the dance of religion on American shores since the second world war.  Ken Woodward may be the only one who could have written it."
–Rabbi Marc Gellman, Ph.D., author, columnist, radio and TV religion commentator 
"This survey and interpretation of the American socio-religious scene over the past half century is deeply resourced, comprehensive in coverage, fair-minded in its judgments, and eminently readable. It covers much more than politics, but Woodward has original things to tell us on that highly charged topic. His account of the religious right is a model of clarity, and he balances that by calling attention to often overlooked religious dimensions to Democratic party politics — especially the importance of Methodism in the political formation of George McGovern and Hillary Clinton. All in all, a terrific book."
–Philip Gleason, Emeritus Professor of History at the University of Notre Dame
"Being there matters."
With these words, Woodward begins his highly anticipated narrative of "the most volatile religious period in American history. There have been other periods of religious enthusiasm and upheaval," he writes, "but none of these was so widespread, so wildly diverse in faith and practice, so direct in impact on electoral politics as the one that ranged from the end of the Second World War to the dawn of the new millennium. How and why this happened, and to what social, cultural, and political effect, is the story I have to tell."
A blend of history, memoir, personal reporting, and impeccable research, GETTING RELIGION: Faith, Culture, and Politics form the Age of Eisenhower to the Era of Obama (Convergent Books, Hardcover $30.00, on sale September 13, 2015) tells the story of how American religion, culture, and politics influenced one another in the second half of the twentieth century. Beginning with a bold reassessment of the fifties, the narrative weaves through the Civil Rights era and the movements that followed in its wake: the anti-Vietnam protests, liberation theology in Latin America; the rise of Evangelicalism and the decline of mainline Protestantism;
the impact of women's liberation on the Church; the transformation of the family and the emergence of religious cults; and the embrace of righteous politics by both the Republican and Democratic parties.
Along the way, Woodward provides riveting portraits of many of the era's major figures: preachers like Billy Graham and Jerry Falwell; politicians Mario Cuomo and Hillary Clinton; movement leaders Daniel Berrigan, Abraham Joshua Heschel, and Richard John Neuhaus; influential thinkers ranging from Erik Erikson to Elizabeth Kubler-Ross; feminist theologians Rosemary Reuther and Elizabeth Schussler-Fiorenza; and est impresario Werner Erhardt; plus the author's long time friend, the Dalai Lama.
Etched with keen insight and sharp wit, Getting Religion challenges the conventional ways in which Americans think about religion in public life.