Press Releases
Gather & Graze by Stephanie Izard and Rachel Holtzman
120 Favorite Recipes for Tasty Good Times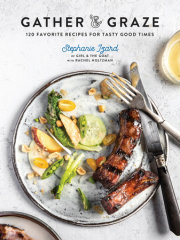 Stephanie Izard and Rachel Holtzman
Imprint: Clarkson Potter
On sale: April 3 2018
Price: $35.00
Pages: 272
ISBN: 9780451495945
Contact:
Erica Gelbard
EGelbard@penguinrandomhouse.com
From beloved Chicago chef and restaurateur Stephanie Izard, winner of Top Chef and Iron Chef Gauntlet, Food & Wine's "Best New Chef" and James Beard Award winner, comes a cookbook with flavor and fun at the forefront, with more than 100 recipes and 100 photographs.
 Since becoming Top Chef's first female winner, Stephanie Izard opened three restaurants in Chicago, started a family, traveled around China, and became an Iron Chef. Now, she is here to share her next adventure: a cookbook with recipes that highlight her unique way of hitting all of the right salty, savory, tangy, and sweet notes. GATHER & GRAZE: 120 Recipes for Tasty Good Times (Clarkson Potter; on sale April 3, 2018, $35.00) by Stephanie Izard with Rachel Holzman shares 120 craveable, knockout dishes that will surprise and delight any home cook, focusing on flavors and recipes that you can find in her three award-winning restaurants.
Highlight recipes include:
Brunching: Szechuan-Style Breakfast Biscuits • Corncakes and Eggs with Heirlooms and Herbs • Tasty Eggy Kimchi Bacon Thing • Ooey-Gooey Cinnamon Rolls
Girl & The Grill: Smoky Broccoli with Blue Cheese Dressing and Spiced Crispies • Lamb Ribs with Strawberry-White Asparagus Tapenade • Grilled Confit Duck Legs with Nectarine Kimchi • Grilled Potato Salad with Grilled Scallion Vinaigrette • Chocolate Peanut Butter-Covered Cheez-It S'mores
Gimme Meat: Goat Neck with Pickled Watermelon Rind Salad • Slow-Cooker Pork Shoulder • Crispy Beef Short Ribs with Avocado and Grapefruit Chermoula • Yogurt-Marinated Chicken Thighs with Cilantro
Eating with the Fishes: Scallop Ceviche with Blood Orange • Mussels for Two with Marinated Perilla Vinaigrette • Crispy Whole Fish with Bacon Sweet 'n' Sour and Hoisin Mayo
Veggies Are Fun, Too!: Kohlrabi Salad with Fermented Tofu Vinaigrette Roasted Shishito Peppers with Sesame Miso and Parmesan • Sweet Potato Gratin with Blue Cheese Dressing and Crispy Onions
Keeping It Sweet: Goat Cheesecake with Beer Caramel and Pretzel Whipped Cream • Peanut Butter Overload Cake with Concord Grape Sauce • Chocolate Mousse with Black Olive Caramel • Passionfruit Meringue Pie
About the Author
Stephanie Izard is the executive chef and co-owner of the award-winning restaurants Girl & the Goat, Little Goat Diner, and Duck Duck Goat in Chicago. She was the first female winner on Bravo's Top Chef, received the James Beard Award for Best Chef: Great Lakes, and was one of Food & Wine magazine's Best New Chefs in 2010. She most recently won the Iron Chef title on the Food Network's Iron Chef Gauntlet. She lives with her family in Chicago.
About the Book
GATHER & GRAZE
120 Favorite Recipes for Tasty Good times
By Stephanie Izard with Rachel Holzman
On sale April 3, 2018 | $35.00 | Hardcover |ISBN: 9780451495945
Advanced Praise for Gather & Graze
"What I have always adored about Stephanie is that somehow her energy and positive spirit are just as compelling as her over-the-top delicious food. With Gather & Graze, she shares all of that brilliant, fun-loving flavor and cooking intel that have made her such a shining star in the food world and her restaurants so coveted. Her recipes and menus are casual, craveable, and most of all doable. I dare you to open this book and not want to cook everything!"
—Gail Simmons, food expert, TV host, and author of Bringing It Home: Favorite Recipes from a Life of Adventurous Eating

"I've been a huge fan of Stephanie's from the very first bite I took at Girl & the Goat, and my love for her as a chef and a person has steadily grown ever since. Getting married and starting a family may have been the best thing that ever happened to her as a successful entrepreneur, focusing her intensity and realizing that time poverty was part of the new equation. One of the best books on cooking at home is one of the results of that math. Gather & Graze not only is filled with spectacular recipes that will delight the home cook, but the way the food fits into all our lives, coming together to share, is the real genius of this superbly crafted book. This isn't a show-offy book either, it's a real life primer on the best way to eat and entertain for family, friends, and loved ones."
—Andrew Zimmern
"Stephanie Izard is one of the most uniquely talented and vivacious chefs working today, and she's managed to capture so much of what makes her food special on these pages."
—Alton Brown
Related Posts: