Press Releases
The Game of Eating Smart
Nourishing Recipes for Peak Performance Inspired by MLB® Superstars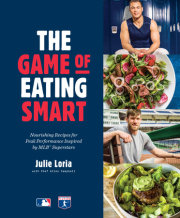 Julie Loria and Allen Campbell
Imprint: Rodale Books
On sale: March 26, 2019
Price: $25.99
Pages: 240
ISBN: 9781635652703
Contact:
Tammy Blake
212-572-2542
tblake@penguinrandomhouse.com
The top-performing Major League Baseball® stars all have one thing in common: they fuel their bodies with healthy food. Culinary and wellness enthusiast Julie Loria traveled across the country interviewing elite athletes like Bryce Harper, David Price, Noah Syndergaard, and Mike Trout to learn more about how eating smart influences their performance. With the help of Tom Brady's former personal chef, Allen Campbell, THE GAME OF EATING SMART: Nourishing Recipes for Peak Performance Inspired by MLB® Superstars (On-sale March 26, 2019; $25.99; Rodale Books) was born. This is the ultimate insider's guide to MLB® performance nutrition and lifestyle tips that show how to reach and sustain our healthiest selves.
Together, Loria and Campbell created more than 100 mouthwatering recipes inspired by the food philosophies of the twenty-one athletes interviewed in the book. Their approach to eating smart avoids grueling restrictions and calorie counting in favor of nutrient-dense meals packed with flavor. Easy-to-prepare recipes are coupled with trusted insights from today's top ballplayers on their personal approaches to healthy living and performance nutrition.
Featuring Exclusive Interviews with:
– José Altuve, Second Baseman for the Houston Astros
– Giancarlo Stanton, Outfielder for the New York Yankees
– David Price, Starting Pitcher for the Boston Red Sox
– Kris Bryant, Third Baseman for the Chicago Cubs
– Clayton Kershaw, Starting Pitcher for the Los Angeles Dodgers
– And so many more!
The insights and recipes from THE GAME OF EATING SMART are perfect for athletes seeking peak performance, or anyone interested in feeling the benefits of nourishing and well-balanced meals.
###
About the Authors:
Julie Loria is the author of Diamond Dishes, which showcases stories and recipes from twenty top Major League Baseball® players, including Derek Jeter, Albert Pujols, and Alex Rodriguez. She was born and raised a baseball fan and has always had a passion for food. While living in Paris, she honed her culinary skills at the French cooking school La Cuisine de Marie-Blanche. She now lives in New York.
Allen Campbell is known as "the chef of peak performance" and was most recently the personal chef for New England Patriots' star quarterback Tom Brady and his wife, Gisele Bündchen. With Tom Brady, he coauthored the TB12 Nutrition Manual. Allen lives in Boston.
Related Posts:
You Might Also Like