Press Releases
The Future of God
By Deepak Chopra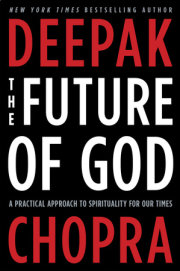 Deepak Chopra
Imprint: Harmony Books
On sale: November 11, 2014
Price: $25.00
Pages: 272
ISBN: 9780307884978
Contact:
Tammy Blake
212-572-2542
tblake@penguinrandomhouse.com
"Chopra's first-person viewpoint and clear, colloquial language help persuade readers to entertain the possibilities he raises." —Publishers Weekly
Millions of people around the world have grown disillusioned with God. Without accepting that God is dead, many believers feel lost and confused by something that once gave their life meaning. This leads to a very important question: In the time of ISIS, Ebola, global warming, and wars between former allies, is God still relevant in the twenty-first century?
According to Deepak Chopra, one of the most respected modern authorities on spirituality, the answer is yes—with one caveat. We must throw out our old ways of thinking and view God and faith with new eyes. In his latest book, THE FUTURE OF GOD: A Practical Approach to Spirituality for Our Times (Harmony Books; on sale November 11, 2014), Chopra dispels the faulty arguments of a new breed of militant atheists and goes on to show us an inspiring and invigorating path to understanding God and our own place in the universe.
Taking on what he sees as the destructive rhetoric and illogical arguments of militant atheists such as Richard Dawkins, Chopra sees the present moment—during times of conflict and turmoil—as the perfect opportunity for making spirituality what it really should be: reliable knowledge about higher reality. Outlining a path to God that turns unbelief and disappointment into the first step of awakening, Chopra shows us that a crisis of faith is like the fire we must pass through on the way to power, truth, and love.
"Faith must be saved for everyone's sake," he writes. "From faith springs a passion for the eternal, which is even stronger than love. Many of us have lost that passion or have never known it." In any age, faith is a cry from the heart. God is the higher consciousness that responds to the cry. "By itself, faith can't deliver God, but it does something more timely: It makes God possible."
For three decades, Deepak Chopra has inspired millions with his profound writing and teaching. With The Future of God, he invites readers on a journey of the spirit, providing a practical—and for many a controversial—path to understanding God and our own place in the universe.
Now is a moment of reinvigoration, he argues. Now is a moment of renewal. Now is the future.
###
About the Author
DEEPAK CHOPRA is the author of more than 80 books translated into over 43 languages, including numerous New York Times bestsellers in both the fiction and nonfiction categories. Visit him at DeepakChopra.com.
Related Posts: