Press Releases
From the founder of The Peak of Chic blog comes a gorgeous guide to stylish living that will inspire and delight
In With the Old: Classic Decor from A to Z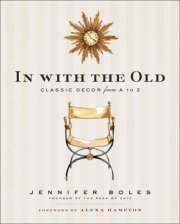 Jennifer Boles
Imprint: Potter Style
On sale: 10/22/13
Price: $34.95
Pages: 272
ISBN: 9780385345163
Contact:
Kim Small
212-572-6067
ksmall@randomhouse.com
The 1930s to the 1960s were a grand time for decorating: they saw Chippendale chairs and grotto furniture, house stationery, monograms, tented rooms, and vanities—much of which has since been forgotten. In IN WITH THE OLD: CLASSIC DÉCOR FROM A TO Z  (Potter Style, On Sale October 22, 2013, $34.95) Jennifer Boles, founder of The Peak of Chic blog (www.thepeakofchic.com) breathes new life into gracious living with 100 entries organized from A to Z on her favorite decorating essentials of the past. Each entry explores curious facts, anecdotes, and timeless advice plucked from the legacies of Billy Baldwin, Dorothy Draper, Sister Parish, the Duchess of Windsor, and other tastemakers whose influence continues today.
For example, did you know that the great designer Nancy Lancaster once covered all the books of her London library in red paper to add dramatic impact to the room's shelves? Or that Bunny Mellon had the floors of her home painted with faux shadows so that the sun always seems to shine indoors?
Jennifer has a wealth of knowledge about interior design history, and she conveys the details in a tone that's playful and upbeat. The information she includes is idiosyncratic, facts not easily found online. This treasure trove of decorating classics is a must-have for any designer or design enthusiast. With charming illustrations and photographs, IN WITH THE OLD is a guide to stylish living that will inspire and delight.