Press Releases
Fresh, seasonal, and healthy vegetarian recipes from the acclaimed blogger of www.ChocolateAndZucchini.com
The French Market Cookbook: Vegetarian Recipes from my Parisian Kitchen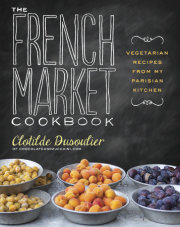 Clotilde Dusoulier
Imprint: Clarkson Potter
On sale: July 2, 2013
Price: $22.50
Pages: 224
ISBN: 9780307984821
Contact:
Anna Mintz
212-572-6186
amintz@randomhouse.com
In THE FRENCH MARKET COOKBOOK (Clarkson Potter/Publishers; July 2, 2013; $22.50; Trade Paperback), award-winning blogger and bestselling author Clotilde Dusoulier creates vibrant vegetarian meals (many dairy- and gluten-free) from her Parisian apartment using seasonal selections from her local markets.
For Clotilde, meal planning always begins with the questions "What's in the vegetable bin?" or "What looks good at the farmer's market?"  In THE FRENCH MARKET COOKBOOK, she offers 90 recipes (and 75 beautiful full-color photographs) that highlight her take on the love affair between French cuisine and fresh vegetables. Though the recipes are French-inspired, Clotilde works her greatest magic with the humblest of vegetables—all of which are staples here in the United States.
Separated into chapters by season, sample recipes featured in the book include:
SPRING: Avocado and Radish Mini-Tartines; Asparagus Buckwheat Tart; Strawberry Tartlets with Breton Shortbread Crust
SUMMER: Eggplant and Fresh Herb Tabbouleh; Fresh Shell Beans and Barley with Sage and Garlic; Peach, Almond, and Cardamom Clafoutis
FALL: Parisian Gnocchi; Mushrooms Stuffed with Plums and Hazelnuts; Pear and Chestnut Cake
WINTER: Roasted Beet Soup with Baby Spinach and Squash Seed Pesto; Curried Leek Tart Tatin; Savory Pumpkin and Cornmeal Quick Bread
Clotilde's colorful, seasonal dishes draw upon the regional French repertoire, borrow ideas from restaurant meals she's enjoyed, and combine them with her own inspirations from her Parisian kitchen.  Whether they are living a vegetarian lifestyle or simply looking to incorporate healthier, flavorful dishes into everyday meals, THE FRENCH MARKET COOKBOOK offers readers 90 delicious recipes with an appealing French spin on seasonal produce.
ABOUT THE AUTHOR:
CLOTILDE DUSOULIER is the creator of the award-winning food blog ChocolateAndZucchini.com, and the author of the cookbook Chocolate & Zucchini and the guidebook Clotilde's Edible Adventures in Paris. She lives in Paris, France.
Related Posts:
You Might Also Like