Press Releases
Four New Original Doctor Who Adventures Coming This Fall
Three starring the Twelfth Doctor as played by the highly-anticipated Peter Capaldi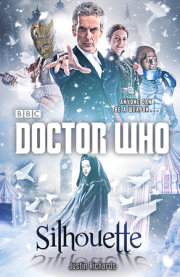 Justin Richards
Imprint: Broadway Books
On sale: September 2, 2014
Price: $9.99
Pages: 256
ISBN: 9780804140881
Contact:
Abigail Murdy
212-572-2247
amurdy@randomhouse.com
America's obsession with Doctor Who is at an all-time high. Since the British sci-fi show's 2005 revival, Doctor Who has become a US phenomenon, with each season bringing record-high ratings for BBC America. Millions of Americans tuned in to last season's finale to watch the Eleventh Doctor Matt Smith pass the baton—or sonic screwdriver—to the Twelfth Doctor, played by acclaimed actor Peter Capaldi. Now fans are waiting in fevered anticipation for the new season premiere on August 23, 2014.
As fan excitement reaches fever pitch, Broadway Books is thrilled to add four original Doctor Whotie-in novels to our series. To be published on September 9, 2014, these books are sure to feed every Whovian's insatiable desire for more of the Doctor. Justin Richards's Doctor Who: Silhouette, James Goss's Doctor Who: The Blood Cell, and Mike Tucker's Doctor Who: The Crawling Terror, all feature the Twelfth Doctor as played by Peter Capaldi; George Mann's Doctor Who: Engines of War stars the character known as the War Doctor, as played by Academy Award–winning actor John Hurt in the show's most recent smash-success, its 50th anniversary special The Day of the Doctor. All four books have been penned in collaboration with BBC's Cardiff TV production team and are based on the authors' advance access to the top-secret scripts of forthcoming episodes.
ABOUT THE BOOKS
In Doctor Who: Silhouette, the Doctor and his friends Vastra, Strax, and Jenny find themselves thrust into a world where nothing and no one are what they seem. In Doctor Who: The Blood Cell, the Doctor finds himself—along with the universe's most dangerous criminals—imprisoned on an asteroid in the farthest reaches of space. In Doctor Who: The Crawling Terror, strange insects begin to invade a village cut off from the outside world, and the Doctor must race to unravel a terrible mystery dating back to the Second World War. In Doctor Who:  Engines of War, the Great Time War rages, ravaging the universe. The Daleks and the Time Lords deploy ever more dangerous weapons in desperate attempts at victory, but there is no end in sight. Together with Cinder, a young Dalek hunter, the Doctor discovers a Dalek plan that will take him from the ruins of Moldox to the halls of Gallifrey—and set in motion a chain of events that will change everything.
ABOUT THE AUTHORS
Justin Richards has written for stage and screen as well as written novels and graphic novels. He has also cowritten several action thrillers for older children with the acknowledged master of the genre Jack Higgins. Justin acts as creative consultant to BBC Books' range of Doctor Who titles and has written quite a few himself. Married with two children (both boys), Justin lives and works in Warwick, within sight of one of Britain's best-preserved castles.
James Goss has written three Torchwood novels, a Doctor Who novel, and two radio plays, and is the coauthor, with Steve Tribe, of The Dalek Handbook and Doctor Who: A History of the Universe in 100 Objects. His books Dead of Winterand First Born were both nominated for the 2012 British Fantasy Society Awards.
Mike Tucker is an Emmy-nominated, BAFTA-winning visual effects designer. He spent twenty years as part of the BBC's in-house visual effects department before setting up his own company. As a writer, he has contributed to the Doctor Who ranges, novelized several scripts for the Merlin range, and coauthored a history of the BBC VFX department.
George Mann is the author of the Newbury & Hobbes steampunk mystery series, as well as of numerous other novels, short stories, and original audiobooks. He has edited a number of anthologies, including The Solaris Book of New Science Fiction and The Solaris Book of New Fantasy. He lives near Grantham, UK, with his wife, son, and daughter.
Please visit drwhobooks.com to learn more.
Related Posts: