Press Releases
FOUNDING MARTYR
The Life and Death of Dr. Joseph Warren, the American Revolution's Lost Hero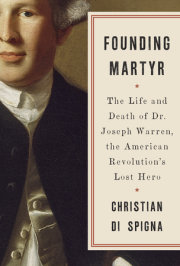 Christian Di Spigna
Imprint: Crown
On sale: August 14, 2018
Price: $28.00
Pages: 336
ISBN: 9780553419320
Contact:
Ellen Folan
212.782.8944
efolan@prh.com
Praise for FOUNDING MARTYR
"[A] revealing and insightful biography… Di Spigna incorporates diligent research, enhanced by analysis of primary sources only he has tracked down (such as medical records Warren maintained for his practice), into a gripping narrative that doesn't shy away from the darkness in his subject, including Warren's family's ownership of slaves. This book will give readers a fuller picture of American leadership before the active engagement of those now called the founding fathers."
—PUBLISHERS WEEKLY (starred)
"A fresh biography of an underappreciated figure in American history… [Di Spigna] reminds readers that Warren was more than a man who sacrificed his life for the cause of liberty… [he] persuasively argues that Warren was 'a rare combination of statesman and warrior' and that 'his effective arsenal of voice, pen, and sword was unrivaled by any other patriot'… Hopefully, Di Spigna's insightful biography will rekindle public interest in Warren, a man who deserves to be remembered." 
—KIRKUS REVIEWS
"Joseph Warren has finally found the biographer who restores him to his place among the architects of American independence. Well-written and thoroughly researched, Founding Martyr not only illuminates Warren's role, but sheds new light on how resistance to British policies was organized at the grass roots.  It is an important contribution to our understanding of the coming of the American Revolution."
—ERIC FONER, Pulitzer Prize-winning author of The Fiery Trial
"Without Joseph Warren, who combined the passionate eloquence of Thomas Jefferson with the leadership abilities of George Washington, the American Revolution might have never even gotten started.  Christian Di Spigna has written a laudable and carefully researched biography of the Founding Father history forgot."
—NATHANIEL PHILBRICK, author of Valiant Ambition and Bunker Hill
For more than two centuries, the story of Dr. Joseph Warren has remained in the shadows of the American Revolution. One of the key architects of colonial rebellion, Warren was a man who might one day have led the country like Washington or Jefferson, his name etched in history alongside our country's legends: John Hancock, Samuel Adams, John Adams. But his tragic death at Bunker Hill in 1775 led to Warren's legacy, and his key contributions to the cause of American independence, being unjustly overlooked.
Now, with FOUNDING MARTYR: The Life and Death of Dr. Joseph Warren, the American Revolution's Lost Hero (Crown, On Sale: August 14, 2018), a passionate work of historical excavation and a culmination of nearly two decades of meticulous research, Christian Di Spigna has delivered the long overdue, definitive biography of a forgotten Founding Father.
In Massachusetts prior to 1776, Warren was considered one of the most serious threats to British rule. A high-ranking Whig radical, he served as president of the Massachusetts Provincial Congress, played a central role in the Boston Tea Party, and operated an intricate spy ring that led to Paul Revere's midnight ride and set off the "shot heard round the world" that resulted in the historic Battles of Lexington and Concord. Di Spigna traces Warren's rise from the son of humble farmers to a powerful gentleman revolutionary and dives deep into Warren's personal life and his much-neglected but leading role as a combatant at Bunker Hill, as well as his heroic death on the battlefield and his remains' eighty year postmortem odyssey.
Di Spigna has unearthed scores of new primary source documents and managed to track down a number of Warren's direct descendants (many historians claim that the line had long since died out) in his quest to uncover the full scope of Warren's legacy. His thoughtful, judicious portrait not only restores Warren to his rightful place in the pantheon of Revolutionary greats, it gloriously complicates our understanding of the nation's dramatic beginnings.


# # #
CHRISTIAN DI SPIGNA is a writer based in Williamsburg, Virginia and New York City. A regularly appearing speaker and volunteer at Colonial Williamsburg, Di Spigna is an expert on the history of the era and educates wide audiences. http://www.foundingmartyr.com/
FOUNDING MARTYR
The Life and Death of Dr. Joseph Warren, the American Revolution's Lost Hero
By Christian Di Spigna
Crown • On-Sale: August 14, 2018
Hardcover • $28.00 • ISBN: 978-0-553-41932-0 • eBook • $14.99 • ISBN: 978-0-553-41933-7
Related Posts:
You Might Also Like