Press Releases
Forget the little things and become more efficient!
The power of forgetting by Mike Byster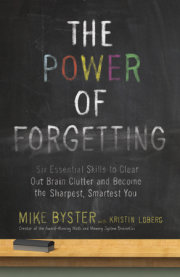 Mike Byster
Imprint: Harmony Books
On sale: March 18, 2014
Price: $15.00
Pages: 368
ISBN: 9780307985873
Contact:
Ellen Folan
212-782-8944
efolan@randomhouse.com
"If we can learn to minimize the idle, ineffective clutter and maximize the stuff that future successes are made of, then we can go far. Mastering the art of forgetting, as you're about to find out, will be the ultimate key to that achievement." — Mike Byster
Is it possible that the answer to becoming a more efficient and effective thinker is learning how to forget? Yes! And Mike Byster, creator of the award-winning memory system Brainetics, can show you how mastering this extraordinary technique—forgetting unnecessary information, sifting through brain clutter, and focusing on only important nuggets of data—will change the quality of your work/life balance forever.
A self-taught whiz with a knack for identifying patterns in words and numbers, Byster has helped thousands of students tap into the inherent powers of their brain to instantly become better learners, smarter, more creative, and exceedingly more productive with his engaging, fun, and distinctly accessible method. Now, with his debut book, THE POWER OF FORGETTING: Six Essential Skills to Clear Out Brain Clutter and Become the Sharpest, Smartest You (Harmony Books, paperback, on sale March 18, 2014), Byster is bringing his one-of-a-kind program for boosting brain power to all ages and audiences. Using the "forgetting" lessons Mike lays out in the book and their related exercises can help you enhance your ability to innovate, impress, stand out in a crowd, move up the corporate ladder, magnify employability and moneymaking capacity, ask for what you want, adapt to new situations, work under pressure, and much more.
Byster teaches readers his unconventional, practical system for preserving mental energy to optimize all those high-energy functions by engaging the unique skills of forgetting. And this ability, according to Mike, rests on developing six essential skills:
Focus
Concentration
Retaining information without "memorizing"
Thinking outside the box
Organization
Forgetting
With THE POWER OF FORGETTING you can start to overcome the staggering volume of daily distractions that lead to brain fog, an inability to concentrate, lack of creativity, stress, anxiety, nervousness, angst, worry, dread, and even depression. By training your brain with Byster's exclusive quizzes and games, you'll develop the critical skills to become more successful in all that you do, each and every day.
About the Author:
MIKE BYSTER is the creator of the award-winning memory system Brainetics and the founder of Brainetics, LLC. Visit him at www.mikebyster.com.
Related Posts: