Press Releases
The Food of Northern Thailand by Austin Bush
The Food of Northern Thailand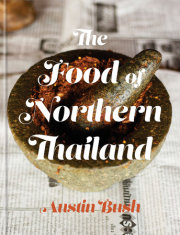 Austin Bush
Imprint: Clarkson Potter
On sale: October 23, 2018
Price: $40.00
Pages: 336
ISBN: 9780451497499
Contact:
Erica Gelbard
EGelbard@penguinrandomhouse.com
Known for its herbal flavors, rustic dishes, fiery dips, and comforting noodles, the food of northern Thailand is both ancient and ever evolving. In The Food of Northern Thailand (Clarkson Potter | October 23, 2018 | $40.00 | Hardcover), readers will travel province by province, village by village, and home by home to meet chefs, vendors, professors, and home cooks as they share recipes, some never before described in English, and insights into the historic and cultural forces that have shaped this region's glorious cuisine.
A writer, photographer, and travel-guide writer, Austin Bush has lived in Thailand for nearly twenty years. In The Food of Northern Thailand, readers will join him on his journey collecting recipes and stories from natives and experts, capturing the people, countryside, markets, and of course, dishes and cooking techniques of the region. A world away from what most of us think of when we think of Thai food, these dishes vary in spice and flavor—from Muslim-style khao soi, a mild coconut and star anise beef curry with both boiled and crispy fried noodles, to spiced fish steamed in banana leaves to an almost custard-like texture, to the intense, numbingly spiced meat "salads" called laap. There are also introductory sections on the history and people of Northern Thailand, Northern Thai-style cooking methods, and a glossary of ingredients.
Sample chapters and recipes include:
CHIANG MAI: Naam Phrik Awng – a Northern Thai-style dip of tomatoes and ground pork; Sai Ua – Northern Thai-style herb sausage
CHIANG RAI: Mal Qer Cael Tahq – an Akha-style dip of grilled tomatoes and chilies; Naam Phrik Khing and Muu Yaang – a Lahu-style dip of grilled ginger served with grilled pork belly
LAMPANG: Jaw Phak Kaat – a soup of yu choy greens and pork ribs; Kuaytiaw Naam Ngiaw – a rich pork-rib and tomato broth served over flat rice noodles
MAE HONG SON: Up Kai Asii Pian – a Shan-style aromatic chicken curry; Nuea Tam – Shan-style "pounded meat"
PHRAE & NAN: Tam Makhuea – a pounded salad of grilled eggplant; Laap Plaa – grilled fish laap as made in Wiang Sa
Organized by province, with gorgeous landscape, portrait, lifestyle, and food photography, The Food of Northern Thailand is a snapshot of the vibrant culinary world of northern Thailand as it stands today.

ABOUT THE AUTHOR:
AUSTIN BUSH has lived in Thailand since 1999. He speaks, reads, and writes fluent Thai, and has written extensively about Thai food. His writing and photography has appeared in more than twenty books for Lonely Planet, as well as media outlets including bbc.com, Bon Appétit, CNN Travel, Condé Nast Traveler, Olive, Monocle, the New York Times, Saveur, time.com, Travel + Leisure Southeast Asia, VICE, the Wall Street Journal Asia, and the Washington Post, among others. His blog, AustinBushPhotography.com/blog, was a finalist in Saveur magazine's Best Food Blogs. He works closely with Andy Ricker and has photographed the New York Times bestseller Pok Pok and its follow-up, The Drinking Food of Thailand.
# # #
THE FOOD OF NORTHERN THAILAND
By Austin Bush
Clarkson Potter/Publishers
On sale: October 23, 2018
ISBN 9780451497499 | $40.00 | Hardcover
Related Posts: