Press Releases
Food Network's rock star chef Anne Burrell is back
Own Your Kitchen: Recipes to Inspire & Empower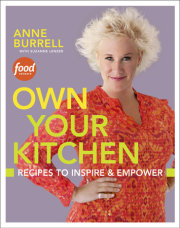 Ann Burell
Imprint: Clarkson Potter
On sale: October 15, 2013
Price: $29.99
Pages: 256
ISBN: 9780307886767
Contact:
Anna Mintz
212-572-6186
amintz@randomhouse.com
One of America's favorite and most seasoned chefs, Anne Burrell is known from her Food Network shows for her warm, boisterous approach to cooking.  In her second cookbook, she's using her over-the-top personality and feisty flavors to teach readers the simple recipes she cooks when she's relaxed and in her own home kitchen. Own Your Kitchen: Recipes to Inspire & Empower (Clarkson Potter/Publishers; on sale October 15, 2013; $29.99; Hardcover) serves up a collection of Anne's most-loved recipes and dishes out a range of techniques and flavors that every cook should have in his or her arsenal, from how to create the perfect omelet to learning how to butterfly a chicken for an easy roast.
In Own Your Kitchen, Anne uses her signature enthusiastic, sassy approach to teach readers how to get the most out of ingredients and make the straightforward dishes she likes to cook off-camera in her home kitchen. From classic bistro fare to easy options for weekend brunch, the recipes in Own Your Kitchen are all accessible and delicious. This is authentic Anne – and her home favorites will soon become yours as well!
Sample recipes featured in the book include:
FIRSTS: Kale Caesar Salad, Zucchini Cannelloni with Fresh Tomato Sauce, Bacon-Wrapped Dates with Chorizo and Manchego, Homemade Pita Bread with Pickled Feta Spread
SECONDS:  Big Brined Herby Turkey, Mustard-Braised Pork Shoulder, Whole Roasted Fish in Salt Crust, Garlic Chicken with Israeli Couscous
BRUNCH: Cranberry-Walnut Scones with Whipped Honey Butter, Carbonara Frittata, Red Bliss Home Fries, Baked Eggs with Sausage, Mushrooms, and Tomato Sauce
SANDWICHES: Lamb Meatballs with Tzatziki, Taleggio Grilled Cheese with Bacon and Honey Crisp Apples, Leftover Thanksgiving Dinner Sandwich, Killer Turkey Burgers
SIDES: Stewed Chickpeas with Butternut Squash and Tomatoes, Sausage and Mushroom Stuffing, Grilled Broccoli Rabe, Yukon Gold Potato Pancakes
DESSERTS: Chocolate Chunk Oatmeal Cookies, Apple Brown Butter Crostata, Churros con Chocolate, Almond Caramel Thumbprints
The mouthwatering recipes in Own Your Kitchen are ones that will work every time.  With Anne by their side, reminding them to set up, taste, season, check, and be patient, home cooks will also get in on the secrets that she's picked up over the years in some of the best restaurant kitchens in the country, while learning how to build their cooking repertoire with impressive twists on classic dishes and seasonal favorites.
ABOUT THE AUTHOR:
ANNE BURRELL is the New York Times bestselling author of Cook Like a Rock Star. She was the host for many years of Food Network's Secrets of a Restaurant Chef and is co-host of Worst Cooks in America and host of Chef Wanted with Anne Burrell. A graduate of the Culinary Institute of America, Anne worked at Lidia Bastianich's Felidia and Peter Hoffman's Savoy and taught at the Institute of Culinary Education. She lives in New York City.
Related Posts:
You Might Also Like