Press Releases
Food Network's Giada De Laurentiis shares her most delicious healthy recipes and best tips on how to feel and look great
Giada's Feel Good Food: My Healthy Recipes and Secrets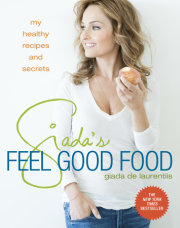 Giada De Laurentiis
Imprint: Clarkson Potter
On sale: November 5, 2013
Price: $32.50
Pages: 256
ISBN: 9780307987204
Contact:
Kate Tyler
212-572-2551
ktyler@randomhouse.com
How do you stay so trim? That is the number one question Food Network star Giada De Laurentiis hears from her many devoted fans. In Giada's Feel Good Food: My Healthy Recipes and Secrets (Clarkson Potter/Publishers, November 5, 2013; $32.50; Hardcover), her most personal and practical book yet, Giada sets out to answer that question by sharing her best tips for staying fit, feeling great, and maintaining a happy and healthy balance.
Here, Giada presents 120 delicious recipes for breakfasts, juices, lunches, snacks, dinners, and desserts that can be combined for a month of delicious feel-good meals. For the very first time, each recipe includes a nutritional breakdown, and helpful icons call out dishes that are vegetarian, vegan, gluten-free, and dairy-free. Giada's Feel Good Food opens up a world of possibilities that will help readers cook in a way that makes them and their families feel great.
Some recipes featured in Giada's Feel Good Food include:
BREAKFAST: Orange-Scented Almond and Olive Oil Muffins; Baked Fruit with Ricotta; Spanish Potato Omelet
JUICES & SMOOTHIES: Rise-and-Shine Juice; Strawberry and Spinach Smoothie with Yogurt; Beet, Ginger, and Apple Juice; Detox Broth
LUNCH: Farfalle with Chicken, Cremini Mushrooms, and Swiss Chard; Whole-Wheat Orzo with Artichoke Pesto; Pita and Grilled Vegetable Panzanella
SNACKS: Lavash Chips with Creamy Tomato-Basil Dip; Cinnamon Kettle Corn; Homemade Cranberry Nut Granola; Roasted Red Pepper Hummus in Cucumber Cups
DINNER: Southern Italian–Style Herbed Chicken; Sole with Lemon-Basil Pesto; Stuffed Red Bell Peppers with Whole-Wheat Couscous and Avocado Cream
DESSERT: Mini Carrot-Apple Cupcakes; Spiced Pumpkin-Raisin Cookies; Chocolate Blueberry Brownies
Going beyond her signature crowd-pleasing recipes for the first time, Giada also gives readers an inside look into her everyday life, including her beauty and exercise routines, how she satisfies sugar cravings, what's always in her bag, and ordering tips for eating well in restaurants.
Giada's Feel Good Food is a beautiful guide to leading a happy, healthy lifestyle and will be a must-have for anyone looking to live better.
# # #
ABOUT THE AUTHOR:
GIADA DE LAURENTIIS is the star of Food Network's Everyday Italian and Giada at Home, a judge on Food Network Star, a contributing correspondent for NBC's Today show, and the author of six New York Times bestselling cookbooks. She has three new books coming out this fall: Giada De Laurentiis's Recipe for Adventure: Naples! and Paris! (September 2013), the first two books in a new children's chapter book series that transports readers to famous food cities around the world; and Giada's Feel Good Food (November 2013), a collection of Giada's secrets for staying fit and her healthy recipes. She attended the Cordon Bleu in Paris and worked at Wolfgang Puck's Spago restaurant in Los Angeles before starting her own catering company, GDL Foods. Born in Rome, she grew up in Los Angeles, where she now lives with her husband, Todd, and their daughter, Jade.
#FeelGoodFood
Related Posts:
You Might Also Like