Press Releases
Food Network's Amy Thielen heralds a fresh take on Midwestern cooking
The New Midwestern Table: 200 Heartland Recipes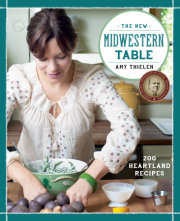 Amy Thielen
Imprint: Clarkson Potter
On sale: September 24, 2013
Price: $35.00
Pages: 400
ISBN: 9780307954879
Contact:
Erica Gelbard
212-572-6186
egelbard@randomhouse.com
In THE NEW MIDWESTERN TABLE: 200 Heartland Recipes (Clarkson Potter/Publishers; on sale September 24, 2013; $35.00; Hardcover), Minnesota native Amy Thielen introduces cooks everywhere to the food, unique characters, and important traditions of the Midwest.
Thielen heralds a fresh take on Midwestern cooking, modernizing and refining the dishes that she grew up with while also unearthing local gems from across the region. In an impassioned voice, she reveals how the Midwest is responsible for much of what we consider our American food heritage, conjuring a cuisine that is generous, thrifty, and resourceful.
With 200 recipes, 150 color photographs, and numerous stories that illuminate the pocket cuisines of the region, THE NEW MIDWESTERN TABLE shines a spotlight on this vibrant regional cuisine.
Sample recipes include:
DIPS, PARTY FOOD & DRINKS: Fresh Cheese Ball with Ground Cherry Chutney, Beet-Pickled Eggs with Hot Mustard Dust, Smoked Lake Trout Baked in Cream, Rhubarb Tarragon Sangria
SOUP OR SALAD

:

Smoky Sauerkraut Soup, Best-Ever Beer Cheese Soup, Grilled Mushroom Salad with Toasted Almonds
LAKE FISH: Lake Trout With Kitchen Butter Sauce, Cracker-Crusted Panfish with Two Sauces, Northern Pike Cakes
CHICKEN SUPPER: Classic Chicken and Wild Rice Hotdish, Midwestern Fried Chicken and Gravy, Spring Chicken Potpie
MEAT: Black Maple-Glazed Pork Belly, Wild Boar Sloppy Joes, Nebraskan Runzas, Ribeye with Homemade Steak Sauce
SIDES: Tomato Carpaccio with Horseradish Ice, Young Green Beans with Lemon-Vodka Cream, Spaetzle with Brown Butter, Crispy Cheese Curd Risotto Cake
POTATOES AND ONIONS: Whipped Potatoes with Horseradish, Lace Potato Pancakes, Glorified Hashbrown Cake with Frying Peppers
PROJECTS: Homemade Cassis, Fermented Dills, Roasted Peach and Honey Jam, Cottage Cheese, Pickled Beets
SWEETS: Sour Cream Raisin Pie, Red Berry Molded Dessert, Chocolate Lazy-Daisy Sheet Cake, Rhubarb-Lime Icebox Pie
EARLY-DAY BAKING: Peanut Maple Fudge Bars, Old-Fashioned Potato Doughnuts with Coffee Glaze, One-Day Buttermilk Rye
BRUNCH: Honey Dutch Baby, Maple-Lacquered Bacon with Crushed Peanuts, Potato and Three-Onion Hash with Smoked Lake Trout 
Beginning September 14th, you can catch Amy delving into all things Midwestern in her new Food Network series, Heartland Table. From her charming cabin kitchen, Amy cooks some of the Heartland's most delicious and often surprising dishes. Over the course of the six-episode series, she'll also visit locals home cooks, restaurants, lakeside kitchens, and working farms, highlighting regional traditions and flavors along the way.  Heartland Table premieres on Saturday, September 14, at 10:30 am ET/PT on Food Network.
Amy Thielen is an important new voice on the culinary scene and by following her sure and steady lead, home cooks will fall in love with America's most captivating local flavors.
ABOUT THE AUTHOR:
AMY THIELEN grew up a few miles from the headwaters of the Mississippi River in northern Minnesota and graduated from Macalester College. She spent seven years cooking professionally in New York under David Bouley, Daniel Boulud, Jean-Georges Vongerichten, and Shea Gallante. Since returning to Minnesota in 2008, she has written for the Minneapolis Star Tribune, Men's Journal, and Saveur, and won a James Beard Journalism Award in 2011. She lives in the country near Park Rapids, Minnesota, with her husband and their son.
Related Posts:
You Might Also Like