Press Releases
Food Network star and host of Ten Dollar Dinners Melissa d'Arabian shares recipes and tips for budget-friendly meals in her first cookbook
Ten Dollar Dinners: 140 Recipes and Tips to Elevate Simple, Fresh Meals Any Night of the Week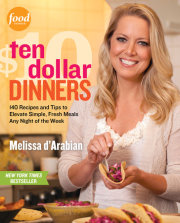 Melissa d'Arabian
Imprint: Clarkson Potter
On sale: August 14, 2012
Price: $24.99
Pages: 368
ISBN: 9780307985149
Contact:
Anna Mintz
212.572.6186
amintz@randomhouse.com
In Melissa d'Arabian's debut cookbook, Ten Dollar Dinners: 140 Recipes and Tips to Elevate Simple, Fresh Meals Any Night of the Week (Clarkson Potter/Publishers; $24.99; August 14, 2012), the Food Network star provides approachable recipes, smart saving strategies, and practical tips for satisfying meals – all within a larger context of eating well, being a responsible consumer, and spending with purpose. A wife and mother of four young daughters, and winner of The Next Food Network Star, Melissa makes good on her unwavering $10 promise of dinner for four. This ultimate guide to affordable and impressive home cooking will appeal to all readers – even those not on a budget – and leave them pleasantly surprised at just how elegant, plentiful, nutritious and downright delicious budget cooking can be.
Drawing on personal life experiences – growing up on a tight budget, earning her MBA and working in corporate America, and managing her own family's resources as a stay-at-home and then working parent – Melissa easily relates to home cooks and encourages them to think about cooking in a different way. In Ten Dollar Dinners, Melissa proves that fresh ingredients and sophisticated flavor profiles have a place at the budget-cooking table.
In addition to its 11 chapters filled with fresh recipes and mouthwatering photographs, Ten Dollar Dinners features handy tools and information like guidelines for a robust pantry and clever mix-and-match cost-coding system for countless menu options. Whether trying a clear-the-pantry week, keeping flavor enhancers like bacon or fresh ginger in the freezer, stretching expensive ingredients alongside inexpensive ones, or finding creative uses for leftovers, Melissa provides more than 100 simple yet effective tips for shopping, cooking and ingredient management.
A pro at conjuring flavor and style from common supermarket ingredients, Melissa's company-worthy recipes are easy enough for a weeknight family meal but also elegant enough for weekend entertaining. Featured recipes include:
APPETIZERS AND SNACKS: Caprese Tartlets, White Bean Tapenade Crostini, Bacon Deviled Eggs with Tuna Tartare, Spanish Tortilla, Caramelized Onion Pizzettas
SOUPS AND SALADS: Creamy Any Veggie Soup, Quick Black Bean Chili, Clam Chowder with Crispy Bacon, Tuna Panzanella Salad, Tomato Salad-Topped Grilled Pizza
FISH AND SEAFOOD: Thyme and Lemon-Infused Fish en Papillote, Shrimp Pad Thai, Poor Man's Paella, Salmon Cakes, Spiced Tilapia Tacos with Red Cabbage-Jalapeno Slaw
CHICKEN: Easy Coq au Vin, Four-Step Chicken Piccata, Spinach and Cheese-Stuffed Chicken with Lemon Butter, Chicken Meatballs
PORK AND BEEF: Pork Loin Milanese with Arugula Salad, Grilled Tandori Pork Kebabs, French-Cut Steak with Caramelized Onions, Grilled Two-Cheese Burgers with Garlic Dressing
VEGETABLES AND STARCHY SIDES: Fennel-Onion Quiche, Black Bean "Nacho" Burgers, Sweet Zucchini Sauté, Creamiest Slow Cooker Polenta, Quick Sour Cream Biscuits, Quinoa Tabouli
PASTA: Fusilli with Chicken, Basil, and Walnuts; Mac and Cheese; Rigatoni with No-Cook Tomato Sauce, Shrimp Scampi Linguine
DESSERT: Strawberry Pavlovas with Apricot Sauce, Classic Apple Tart, Citrus Butter Cookies
BREAKFAST: Baked Huevos Rancheros in Crispy Tortilla Cups; Potato-Bacon Torte (which, at just 50 cents a serving, was one of Melissa's winning recipes on The Next Food Network Star), Black Bean, Chocolate, and Banana Smoothies
With Ten Dollar Dinners, readers can join Melissa d'Arabian in spending with purpose, cooking with love, and savoring their homemade meals, not to mention saving money in style.
ABOUT THE AUTHOR:
MELISSA D'ARABIAN hosts Food Network's daytime cooking series Ten Dollar Dinners and Cooking Channel's lifestyle show Drop 5 lbs with Good Housekeeping. After earning her undergraduate degree at University of Vermont and MBA from Georgetown University, Melissa enjoyed a successful career in finance and strategy before eventually becoming a stay-at-home mom to her four daughters. Eager to share her tried-and-true recipes and tips with today's diverse families, Melissa competed on and won season five of The Next Food Network Star. She has since appeared on the hit primetime series The Best Thing I Ever Ate, Chopped, and Food Network Challenge. Melissa and her family live just outside San Diego. Visit www.melissadarabian.net, and follow Melissa on Facebook and Twitter (@MelissadArabian).
Related Posts:
You Might Also Like