Press Releases
Follow This Thread
A Maze Book to Get Lost In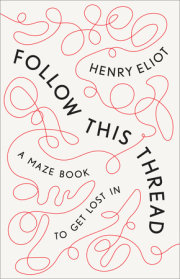 Henry Eliot
Imprint: Three Rivers Press
On sale: March 5, 2019
Price: $18.00
Pages: 240
ISBN: 9781984824448
Contact:
Molly
212-782-9164
mbreitbart@penguinrandomhouse.com
PRAISE FOR FOLLOW THIS THREAD:
"Delightful, ingenious, and beautifully designed."
—Philip Pullman, author of the trilogy His Dark Materials
"Getting lost and found in Eliot's contemplative prose and Quibe's clever drawings is a … gratifying experience."
—Publishers Weekly
"In this winding history of labyrinths, essayist Eliot fills a literary void many readers may not have known existed. … An utterly unique reading experience."
—Booklist

Creatively designed and gorgeously illustrated, FOLLOW THIS THREAD is an immersive, puzzle-like exploration of the history and psychology of mazes and labyrinths—and why they continue to intrigue us today
For as long as human beings have had the capacity to reason, mazes and labyrinths have captured our imaginations. In fact, they are as old as humanity itself—the proving grounds of heroes, the paths of pilgrims, symbols of spiritual rebirth, and pleasure gardens for pure entertainment.
In FOLLOW THIS THREAD: A Maze Book to Get Lost In (Three Rivers Press; Hardcover; March 5, 2019), Henry Eliot, creative editor of Penguin Classics, leads readers on a twisting journey through the world of mazes that physically invites interaction and engagement (rotate the book to read the prose as it curves across the pages). From Kafka to Kubrick, from the myth of the Minotaur to a quest to solve the disappearance of the legendary Maze King, Eliot unravels our ancient, abiding fascination with mazes, weaving together mythology, history, philosophy, biography, popular culture, and much more along the way.
With Eliot as your guide, you'll learn about:
-The famed pop cultural mazes you know and love, from Alice in Wonderland, The Shining, Pan's Labyrinth, The Maze Runner, and more
-The dizzying designs of King Louis XIV's palace at Versailles and Pablo Picasso's abstract artworks
-Mythical, religious, and metaphorical renderings of mazes such as Dante's iteration of Hell or the Hindu chakra-vyuha
-The enigmatic "Maze King" Greg Bright, a nineteen-year-old savant maze maker who disappeared in 1979 at the height of his career
Eliot's is a maze book to get lost in, evoking the spirit of Choose Your Own Adventure, the textual inventiveness of Tom Stoppard, and the philosophical exploration of Jorge Luis Borges. Are you ready to step inside?
Henry Eliot is the creative editor of Penguin Classics. Having studied English Literature at Cambridge University, he has spent the past decade immersed in literature. He has created a mass public pilgrimage for the National Trust inspired by William Morris, recreated Chaucer's Canterbury Tales to raise money for the National Literacy Trust, and led a number of literary tours, including a Lake Poets tour of Cumbria and a quest for the Holy Grail based on Malory's Morte Darthur. He was a Trustee of the William Blake literary society for three years, and is the author of Curiocity, written with Matt Lloyd-Rose, an illustrated book of unexpected London journeys and experiences.
Quibe is a French illustrator and graphic designer based near Paris. Most of his artworks are made with just one line. @quibe.
Related Posts: