Press Releases
THE FOLD by Peter Clines, author of the Ex-Heroes series and 14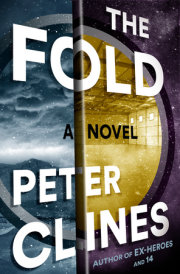 Peter Clines
Imprint: Crown Publishers
On sale: June 2, 2015
Price: $25.00
Pages: 384
ISBN: 9780553418293
Contact:
Rebecca Welbourn
(212) 782-9634
rwelbourn@penguinrandomhouse.com
Early Praise for THE FOLD
"A must-read for anyone who likes a good science-fiction thriller . . . An intelligent, exciting story with a brilliant protagonist and a mystery that genuinely surprised me." —Andy Weir, New York Times bestselling author of The Martian 
"A fun, brilliant read. Technical enough to enthrall, fast-paced enough to stay engaging to the explosive end, The Fold has everything I want in an SF novel, and then a little bit extra." —Mira Grant, New York Times bestselling author of Feed
"Fun, character-driven techno-thriller . . .  Clines lays the groundwork nicely as the tale evolves from a scientific mystery into a thriller with elements of horror and adventure." —Publishers Weekly

"Full-on Michael Crichton-esque premise . . . Fans of Clines's colorful fantasy novels will happily follow him into the Lovecraft-ian nightmare that follows." —Kirkus Reviews
 "The writing is superb. . . .  A very good novel that blends elements of SF, mystery, and political-conspiracy genres." —Booklist
 "A fascinating and accessible treatment of quantum physics make this a terrific example of science-run-amok that gradually turns to horror as the project's secrets are revealed." —Library Journal (starred review)
"A little Crichton and a little Sherlock, Clines tells a riveting and smart mystery thriller that is sure to please fans of both." —Wesley Chu, author of The Lives of Tao
"The Fold is that rare thriller that always keeps just one step ahead of the reader. . . . A crackling, electric read." —Chuck Wendig, author of Blackbirds  
"A mind-blowing science-fiction mystery that kept me guessing right to the end . . . Clines's writing is steeped in popular culture and unexpectedly funny, yet highly perceptive and infused with a subtle intelligence. If you haven't read him, you're in for a wonderful surprise." —Joe McKinney, Bram Stoker Award–winning author of Dead City
"A smart, intense thriller with just a dash of dark humor, The Fold will keep you turning pages until the wee hours of the morning. Well done, Peter Clines!" —D.J. Molles, author of the Remaining series
"Wow! This is why I love spec fic. Brilliant, unpredictable, and mind-bending, The Fold is one of the best books I've read in years. An SF thriller that summons Lovecraftian monsters, it will surprise you again and again. Read it!" —John Dixon, Bram Stoker Award-winning author of Phoenix Island
---
Peter Clines, the acclaimed author of the Ex-Heroes series and 14, has already established himself as a master of the science-fiction thriller. Now he brings us THE FOLD (June 2, 2015; Crown), an ingenious science mystery with a terrifying Lovecraftian twist.
Mike Erikson is one of the smartest people in America. And yet—for reasons nobody around him quite understands—he's chosen to let the potential of his amazing intellect go untapped, instead spending his days as a high school English teacher in a small New England town. Just as school lets out for the summer, however, an old friend presents Mike with a mystery he can't help but be intrigued by—and one that he is uniquely qualified to solve.
Far out in the California desert, a team of DARPA scientists has invented a device called the Albuquerque Door. The machine uses a cryptic computer equation and magnetic fields to effectively "fold" dimensions, shrinking the distance between them so that a traveler can simply step through a portal to a different location. The invention—teleportation made real!—seems like one of mankind's oldest dreams come true. But something, it seems, is going wrong. The personalities of the scientists who work on the device are changing. People are dying. Even reality itself seems to be . . . warping.
Soon Mike finds himself the unwelcome guest of an eccentric physicist and his hostile research team, all of whom seem convinced that he's there to steal their secrets. But it's Mike who figures out that the Albuquerque Door is not what it appears to be—and that its creators don't have as much control over their project as they've led him to believe. As Mike and the other scientists use everything they've learned to solve a seemingly impossible technological mystery, their dream of changing the world rapidly turns into a horror story.
ABOUT THE AUTHOR
Peter Clines has published several pieces of short fiction and countless articles on the film and television industries. He is the author of the Ex-Heroes series and the acclaimed standalone thriller 14. He lives in Southern California.
Related Posts:
You Might Also Like