Press Releases
F**k Plastic
101 Ways to Free Yourself from Plastic and Save the World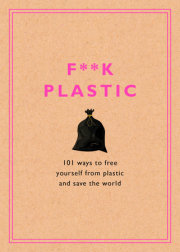 Rodale Sustainability
Imprint: Rodale Books
On sale: April 2, 2019
Price: $12.99
Pages: 128
ISBN: 9781984826022
Contact:
Molly Breitbart
212-782-9164
mbreitbart@penguinrandomhouse.com
Meet the empowering little book with a big message- just in time for Earth Day! Learn 101 tips to cut single-use plastic from your life.
Does the thought of the 51 trillion pieces of plastic in our oceans keep you up at night? Are you still trying to find the best alternative for plastic straws, and striving to lead a zero-waste life? Don't panic! The war on plastic has begun and you can become part of the fight with F**K PLASTIC: 101 Ways to Free Yourself from Plastic and Save the World (Rodale Books; $12.99; On-sale April 2, 2019).
In this handy little book, you'll find 101 small things that you as an individual can do to avoid single-use plastics. From sweet ideas like carrying around your own cutlery, to switches as simple as getting ice cream in a cone instead of a cup or buying loose doughnuts or pastries for snacks instead of packaged goodies, the ideas found in this practical guide will help you change your habits and help save the world.
With easy, no-nonsense steps for cutting plastic out of your everyday life, F**K PLASTIC is perfect for anyone ready to do decrease their personal carbon footprint. This proactive illustrated book provides 101 simple ways to ditch plastic in all areas of our lives, including:
FOOD AND DRINK: Freeze fresh veggies rather than buying pre-frozen packages, and swap beeswax wrap for wasteful cling film
AROUND THE HOUSE: Try using bars of soap instead of hand dispensers, and trade dish scouring tools for natural cloths
YOUR LIFESTYLE: Learn how to throw a plastic-free party, shop for plastic-free make-up, and more!
These easy nudges will guide you and yours to change your habits bit by bit, so that saving nature becomes second nature. Give the gift of a cleaner earth, or study up yourself—no matter what, commit to healing the world with F**K PLASTIC.
Related Posts: