Press Releases
For the first time, New York Times opinion columnist Mark Bittman's most memorable and thought-provoking columns are compiled into a single volume to shine a bright light on the profound impact that diet—both good and bad—can have on our health and that of the planet.
A Bone to Pick: The good and bad news about food, with wisdom and advice on diets, food safety, GMOs, farming, and more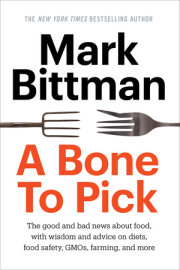 Mark Bittman
Imprint: Clarkson Potter
On sale: May 5, 2015
Price: $26.00
Pages: 272
ISBN: 9780804186544
Contact:
Anna Mintz
212-572-6186
amintz@penguinrandomhouse.com
Mark Bittman made headlines in 2011 when it was revealed that, for the first time, the New York Times opinion page would feature a food writer to help us make sense of the tangled webs of food, health, environment, politics, and culture. As an opinion columnist, he has delighted, enraged, and inspired us to do more for ourselves and our world with his signature no-nonsense, informative, and thought-provoking prose. In A Bone to Pick: The good and bad news about food, with wisdom and advice on diets, food safety, GMOs, farming, and more (Pam Krauss Books; May 5, 2015; $26.00; Hardcover) Bittmancollects the very best of his columns, updates them to reflect the latest research, and ties them together with new material to give context and show what progress we've made in just a few years. What emerges is a collection that shows us the story of who we are as a nation of cooks, eaters, and voters right now and helps readers decipher arcane policy, unpack scientific studies, and deflate affronts to common sense when it comes to determining what "eating well" truly means.
In A Bone to Pick,  Bittman takes the most pressing issues in food and sustainability, from agricultural practices and government legislation to fad diets and corporate greed, and distills them into what you absolutely need to know, whether for a dinner conversation or while filling your grocery cart. As abundant and safe as the American food supply appears to be, the state of our health reveals the presence of staggering deficiencies in both the system that produces food and the forces that regulate it. But, as urgent as the situation is, he contends that we can be optimistic about the future of our food and its impact on our health, as slow-food movements, better school-lunch programs, and even "healthy fast food" become part of the norm.
Bittman routinely makes readers think twice about how the food we eat is produced, distributed, and cooked, and his take is the first read on the production, quality, and healthfulness of what you and your family will be eating tomorrow. At once inspiring, enraging, and enlightening, A Bone to Pick is an essential resource for every reader eager to understand not only the complexities inherent in the American food system, but also the many opportunities that exist to improve it.
# # #
ABOUT THE AUTHOR:
MARK BITTMAN is one of the country's best-known and most widely respected food writers. His How to Cook Everything books, with one million copies in print, are a mainstay of the modern kitchen. Bittman writes on food policy and cooking for the opinion section of New York Times, and is a columnist for the New York Times Magazine. His The Minimalist cooking show, based on his popular New York Times column, can be seen on the Cooking Channel. His most recent book, VB6, debuted at #1 on the New York Times bestseller list.
Related Posts:
You Might Also Like