Press Releases
American Grown by Michelle Obama
Publisher Unveils Title and Book Jacket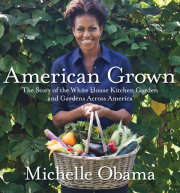 Michelle Obama
Imprint: Crown
On sale: May 29, 2012
Price: $30
Pages: 272
ISBN: 9780307956026
Contact:
David Drake
212-782-9001
ddrake@randomhouse.com
In her first book, First Lady Michelle Obama celebrates the joys and health benefits of garden-fresh food—and the spirit of community that thrivesyear-round in gardens coast-to-coast
AMERICAN GROWN
The Story of the White House Kitchen Garden
and Gardens Across America
Michelle Obama
"It is my hope that our garden's story—and the stories of gardens across America—will inspire families, schools, and communities to try their own hand at gardening and enjoy all the gifts of health, discovery, and connection a garden can bring. All across this great country of ours, something truly special is taking root.  And that is the story I want to tell in this book:  the story of how, together, in gardens large and small, we have begun to grow a healthier nation."
—First Lady Michelle Obama, from the Introduction to American Grown
Since entering the White House in January 2009, First Lady Michelle Obama has emerged as a passionate advocate for healthy eating and exercise.  In February 2010 she launched Let's Move!, a nationwide initiative to address the epidemic of childhood obesity by empowering parents and caregivers with information, improving food quality in schools, increasing access to healthy, affordable food, and encouraging increased physical activity.  Let's Move! (www.letsmove.gov) was inspired in part by Mrs. Obama's experience starting an edible garden at the White House in March 2009, when she broke ground on a 1,100 square foot plot with the help of twenty-three fifth-grade students from Bancroft Elementary School in Washington D.C.  The garden has since produced upward of  3,000 pounds of fresh produce that have been served at formal lunches, State Dinners, and the Obama family's meals.  Additionally, about one-third of what's grown at the White House is donated to Miriam's Kitchen, an organization that helps homeless individuals in the D.C. area.
In her first-ever book AMERICAN GROWN: The Story of the White House Kitchen Garden and Gardens Across America (May 29, 2012; $30; Crown Publishers), Mrs. Obama now invites readers inside the White House Kitchen Garden and offers an unprecedented look at every season of the garden's growth, from the first planting to the latest harvest.  The First Lady also shares the inspiring stories of Americans from all walks of life who are actively engaged in community, school, and urban gardens across the country, and who have come together to build a healthier future for our nation's children and families.
"As both a mother and a First Lady, I was alarmed by reports of skyrocketing childhood obesity rates and the dire consequences for our children's health," Mrs. Obama writes of her inspiration for establishing the first White House garden to grow food since Eleanor Roosevelt's Victory Garden was planted during World War II.  "I hoped this garden would help begin a conversation about this issue—a conversation about the food we eat, the lives we lead, and how all of that affects our children."
Released simultaneously in print and standard and enhanced e-book formats, AMERICAN GROWN is filled with gorgeous photographs that bring the White House garden to vivid life—from the spring planting season through summer growth, and from the fall harvest through winter, a time for reflection and building a foundation for the seasons to come.  Mrs. Obama also takes readers across the country on a journey of discovery, celebrating some of the nation's 18,000 other community gardens that have inspired her, from Seattle's P-Patch—the largest municipal community garden in the country— to the three-acre Betty and Jim Holmes Food Bank Garden in Winston-Salem, NC, which donates its entire harvest to a local food bank.
Following a seasonal crop rotation, AMERICAN GROWN presents 16 recipes created by the White House chefs and inspired by ingredients picked from the White House garden.  Selections include Spring Pea Salad, Spinach Pie, Corn Soup with Summer Vegetables, Cauliflower Mac and Cheese, Braised Pork Shoulder with Butternut Squash and Greens, and sweet treats such as Buttermilk Blueberry Bundt Cake and White Chocolate-Cherry-Carrot Cookies.
The First Lady also provides a fascinating history of White House gardens and their legacies, tracing a rich horticultural history that spans from Thomas Jefferson's planting of groves of trees at the White House to Frederick Law Olmstead's creation of the modern South Lawn in 1935 at the request of President Franklin D. Roosevelt, and from the re-design of the Rose Garden under President John F. Kennedy to Lady Bird Johnson's passion for wildflowers.  AMERICAN GROWN also includes useful tips from the White House garden team about how to plant one's own backyard or container garden; how to inspire and engage children in gardening; and how to join or start a community, school, or urban garden to help grow stronger, more connected communities and ensure that everyone in America has access to fresh, healthy food.
"Regardless of how the world may change, we still have the power to make good choices about what we feed our families," writes Mrs. Obama. "Gardens across the country are playing a vital role in that process, so I had high hopes for those tiny seeds and seedlings going into the ground at the White House on that spring morning back in 2009."
Mrs. Obama accepted no advance for AMERICAN GROWN and all author proceeds will go to the National Park Foundation (www.nationalparks.org), the official charity of America's national parks.  Funds will be used for programs that promote gardening and healthy eating and give young people the opportunity to experience the outdoors and lead more active lives, as well as for the continued care of the White House Kitchen Garden.  Random House will also donate a portion of its profits to the National Park Foundation.
AMERICAN GROWN is also available on CD and as a digital download from Random House Audio, featuring an introduction and selected passages narrated by the First Lady herself as well as a full cast.
#  #  #
For more information, visit www.americangrown.com and www.facebook/americangrown
A Note about the eBook Editions of American Grown
Setting a new standard for illustrated eBooks, American Grown offers a beautifully designed and screen optimized layout for color devices that takes advantage of the best features of each device.
This eBook offers new ways to experience more of the White House Kitchen Garden with features that include:
Even more lush photography and historical images
Timeline of the White House grounds through the years
Delicious recipes not found in the physical book
Tips for healthy living including information on creating nutritious meals on a budget and ways to increase the fruits and veggies in your diet
Helpful tips for gardeners including composting, a starter kit and seasonal to-do lists
A satellite view of the White House Garden
A section for families with a bio of Bo, additional photographs, details on easy plants for kids to grow, and great snacks
The cutting edge experience provided by the iBooks edition of the American Grown eBook also includes:
Exclusive video of First Lady Michelle Obama
Bonus information on the White House honey harvest
An interactive satellite view of the White House Garden
Interactive seasonal garden plans that show what is growing in each bed
A special section for families, including a "Bo's Vegetable Quiz" game and a puzzle game
Note: There may be differences in the interactive experience depending on your eBook device.  Please note the interactive elements of the extra content and videos are only supported on the Apple iPad in iBooks at this time.
Related Posts:
You Might Also Like