Press Releases
The First Family Detail by Ronald Kessler
Secret Service Agents Reveal the Hidden Lives of the Presidents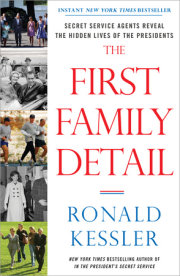 Ronald Kessler
Imprint: Crown Forum
On sale: August 5, 2014
Price: $26.00
Pages: 272
ISBN: 9780804139212
Contact:
Rebecca Marsh
212-572-2544
rmarsh@penguinrandomhouse.com
As in a play, presidents, vice presidents, and presidential candidates perform onstage for the public and the media. What the nation's leaders are really like and what goes on behind the scenes remain hidden. Secret Service agents have a front-row seat on their private lives and those of their wives and children. Crammed with new, headline-making revelations, THE FIRST FAMILY DETAIL: Secret Service Agents Reveal the Hidden Lives of the Presidents (Crown Forum; On Sale August 5, 2014; $26.00) tells that eye-opening, uncensored story.
Since publication of his New York Times bestselling book In the President's Secret Service, award-winning investigative reporter Ronald Kessler has continued to penetrate the wall of secrecy that surrounds the U.S. Secret Service, breaking the story that Secret Service agents who were to protect President Obama hired prostitutes in Cartagena, Colombia, and revealing that the Secret Service allowed a third uninvited guest to crash a White House state dinner.
Now in this new book, Kessler presents far bigger and more consequential stories about our nation's leaders and the agency sworn to protect them. Kessler widens his scope to include presidential candidates and former presidents after they leave the White House. In particular, he focuses on first ladies and their children and their relationships with the presidents.
From observing Vice President Joe Biden's reckless behavior that jeopardizes the country's safety, to escorting Bill Clinton's blond mistress at Chappaqua, to overhearing First Lady Michelle Obama's admonitions to the president, to witnessing President Nixon's friends bring him a nude stripper, to seeing their own agency take risks that could result in an assassination, Secret Service agents know a secret world that Ronald Kessler exposes in breathtaking detail.
THE FIRST FAMILY DETAIL reveals:
Vice President Joe Biden regularly orders the Secret Service to keep his military aide with the nuclear football a mile behind his motorcade, potentially leaving the country unable to retaliate in the event of a nuclear attack. (pgs. 7-13)
Secret Service agents discovered that former president Bill Clinton has a blond mistress who lives near the Clintons' home in Chappaqua, New York. Within minutes of Hillary Clinton's leaving, the woman—code-named Energizer by agents—shows up to be with Bill and stays every day while the likely future presidential candidate is away. (pgs. 2-4, 164-165)
The Secret Service covered up the fact that President Ronald Reagan's White House staff overruled the Secret Service to let unscreened spectators get close to Reagan as he left the Washington Hilton, allowing John W. Hinckley Jr. to shoot the president. (pgs. 118-123)
Secret Service agents have been dismayed to overhear Michelle Obama push her husband to be more aggressive in attacking Republicans and to side with blacks in racial controversies. (pg. 41)
Secret Service director Mark Sullivan diverted agents from protecting President Obama and his family at the White House and ordered them instead to protect his assistant at her home and illegally retrieve confidential law enforcement records as a favor to her. (pgs. 176-185)
Because Hillary Clinton is so nasty to agents, being assigned to her protective detail is considered a form of punishment and the worst assignment in the Secret Service. (pgs. 5, 16-26)
Secret Service agents were ordered to ignore security rules and allow the SUV carrying actor Bradley Cooper to drive unscreened into a secure restricted area when President Obama was about to deliver his speech at the White House Correspondents Dinner. (pgs. 38-40)
Vice President Joe Biden has racked up costs to taxpayers of a million dollars to fly to and from his home in Delaware on Air Force Two. His office tried to cover up the costs of the personal trips. (pgs. 66-73)
Because the Secret Service refused to provide enough magnetometers at his campaign events, Mitt Romney regularly left himself open to assassination by giving speeches to crowds that had not been screened. (pgs. 216-219)
Vice President Joe Biden swims nude at his residence in Washington and at his home in Delaware, offending female Secret Service agents. (pg. 15)
About the Author
Ronald Kessler is the New York Times bestselling author of The Secrets of the FBI, In the President's Secret Service, and The CIA at War. A former Wall Street Journal and Washington Post investigative reporter, Kessler has won eighteen journalism awards, including two George Polk awards: one for national reporting and one for community service. He was named a Washingtonian of the Year by Washingtonian magazine. Kessler lives in Potomac, Maryland, with his wife, Pamela Kessler.
Find out more at www.ronaldkessler.com or follow the author on Twitter @ronaldkessler
***
 Praise for RONALD KESSLER
The Secrets of the FBI
"Ron Kessler appears to get everything first."
—Slate
"I don't know how the author Ronald Kessler does it, convincing some FBI agents to sing like canaries . . . reads like a spy novel."
—Washington Independent Review of Books
 "Kessler's exploration of the FBI provides a collection of revealing information, amusing anecdotes, and curious agency tactics."
—Publishers Weekly
 "Ronald Kessler's new book, The Secrets of the FBI, is a great book that should be read by everyone."
—Donald Trump
In the President's Secret Service
"[A] fascinating exposé . . . high-energy read . . . amusing, saucy, often disturbing anecdotes about the VIPs the Secret Service has protected and still protects . . .  [accounts come] directly from current and retired agents (most identified by name, to Kessler's credit) . . .  Balancing the sordid tales are the kinder stories of presidential humanity . . . an insightful and entertaining story."
—USA Today
 "Kessler's such a skilled storyteller, you almost forget this is dead-serious nonfiction. . . . The behind-the-scenes anecdotes are delightful, but Kessler has a bigger point to make, one concerning why the under-appreciated Secret Service deserves better leadership."
—Newsweek
 "Rips the lid off the inside world of Secret Service agents and the presidents they protect."
—New York Post
The Terrorist Watch
"Ronald Kessler is a veteran Washington-based investigative journalist on national security. . . . His unparalleled access to top players in America's counterterrorism campaign allowed him a rare glimpse into their tradecraft, making The Terrorist Watch a riveting account."
—The Washington Times
 "A very interesting look inside the FBI and CIA . . . unprecedented."
—Jon Stewart, The Daily Show
Related Posts:
You Might Also Like