Press Releases
Fire on the Track by Roseanne Montillo
Betty Robinson and the Triumph of the Early Olympic Women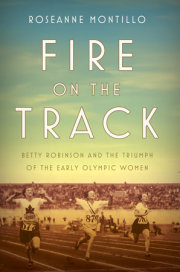 Roseanne Montillo
Imprint: Crown
On sale: October 17, 2017
Price: $27.00
Pages: 304
ISBN: 9781101906156
Contact:
Gwyneth Stansfield
212-366-2201
gstansfield@penguinrandomhouse.com
Advance Praise for FIRE ON THE TRACK
A Fall 2017 Barnes & Noble "Discover Great New Writers" Selection
"Montillo is a brilliant storyteller . . . [and] ably traces women's fight for inclusion and equality in competitive sports while unearthing decades-old examples of the biases and challenges women in competitive sports still face to this day. . . . Engaging, insightful."
—Publishers Weekly 
"A tightly woven, flowing narrative . . . Just as Laura Hillenbrand, in Unbroken, earned acclaim for resurrecting the life of Louis Zamperini, an overlooked American war hero and Olympian, Montillo deserves praise for sharing with honesty and integrity the remarkable stories of these resilient trailblazers. This is a must-read, certain to inspire a new generation of athletes with its fascinating slice of Olympic and women's sports history."
—Booklist (starred)
"Fire on the Track tells the powerful story of one woman's success in breaking an early glass ceiling in women's Olympic sports.  The triumph, tragedy, and redemption that punctuated Betty Robinson's life present a commentary on 1930's America and the trailblazing courage of ordinary women to change the country's thinking about the abilities of their gender. Using anecdote and insight, Montillo has written an important book, bringing to light a resonant piece of history."
—Lucinda Franks, winner of the Pulitzer Prize and author of Timeless: Love, Morgenthau, and Me
"Roseanne Montillo has written a must-read, exhilarating story about a remarkable time in American sports history when women proved that they could be champions. Going against cultural expectations, these athletes managed to achieve greatness during the toughest of times. Betty Robinson is a hero for the ages. Her breathtaking journey from catastrophe to ultimate victory made me stand up and cheer!"
—Lydia Reeder, author of Dust Bowl Girls
"Here's an uplifting new entry for your shelf of Olympics inspiration. Male rowers have Boys in the Boat and female runners now have Fire on the Track. The dawn of women's track comes to life in history that reads like fiction, brimming with character and drama." 
—William Martin, New York Times bestselling author of Cape Cod and The Lincoln Letter
When sixteen-year-old high school junior Betty Robinson assumed the starting position for the 100-meter dash at the 1928 Olympic Games in Amsterdam, she was participating in what was only her fourth-ever organized track meet, competing against athletes who were older and much more experienced. She crossed the finish line as a gold medalist—the first woman to ever receive a gold medal in track and field—and the fastest woman in the world.
In the spirit of The Boys in the Boat and The Perfect Mile, Roseanne Montillo's FIRE ON THE TRACK: Betty Robinson and the Triumph of the Early Olympic Women (October 17, 2017, Crown) tells the story of Betty's remarkable journey as an improbable athletic phenom, from being discovered while she was running for a train in rural Illinois mere months before her Olympic debut to achieving international fame with her appearance in Amsterdam. The 1928 Olympics was the first in which, despite widespread backlash, women were even allowed to participate in track and field, making Betty's victory even more groundbreaking.
But while at the top of her game, Betty's career—and life—almost came to a tragic end when a plane she and her cousin were piloting crashed. Presumed dead at the scene, her body was taken to the local morgue; only upon the undertaker's inspection was it determined she was still breathing. Betty, once a natural runner who always coasted to victory, soon found herself fighting to walk.
While Betty was recovering, the other women of track and field fought for their moment to shine in the 1932 Los Angeles Games, building on Betty's pioneering role as the first female Olympic champion in the sport. Though women's participation in the Olympics was still controversial, their presence gradually became more accepted as stars such as Babe Didrikson and Stella Walsh showed the world what women could do. And miraculously, through grit and countless hours of training, Betty earned her way on to the 1936 Olympic team (alongside new faces, such as Helen Stephens), despite having to sell her own 1928 memorabilia to finance her travel during the Depression. Although Betty had made her Olympic debut as a superstar relying on no one but herself, now she had to learn to be part of a team. She again locked her sights on gold as she and her American teammates faced off in a tense relay against the German favorites in Hitler's Berlin.
Told in vivid detail with novelistic flair, FIRE ON THE TRACK is a fascinating yet little-known slice of history and an unforgettable portrait of these trailblazers in action that still resonates today—when stories of resilience and women breaking boundaries feel more necessary than ever.
About the author: Roseanne Montillo is the author of two other works of nonfiction, The Lady and Her Monsters and The Wilderness of Ruin. She holds an MFA in Creative Writing from Emerson College, where she taught courses on the intersection of literature and history. She lives outside Boston.
Related Posts:
You Might Also Like