Press Releases
Finally Focused by Dr. James Greenblatt & Bill Gottlieb
Breakthrough natural treatment plan for ADHD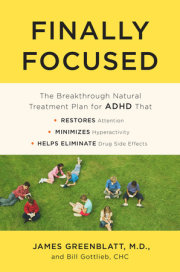 James Greenblatt & Bill Gottlieb
Imprint: Harmony Books
On sale: May 9, 2017
Price: $17.00
Pages: 272
ISBN: 9780451496591
Contact:
Maya Lane
212-782-9164
malane@penguinrandomhouse.com
A breakthrough natural treatment plan for ADHD from integrative psychiatrist Dr. James Greenblatt—restoring attention, minimizing hyperactivity, and helping to eliminate drug side effects
Over the years, Dr. James Greenblatt has seen thousands of children and adults struggling with the symptoms of ADHD, including hyperactivity, inattentiveness, impulsiveness, and often irritability and combativeness. But, rather than automatically prescribing medication, he tailors remedies to his patients' individual needs, using the best of natural and medical therapeutic treatments. Now, in his new book FINALLY FOCUSED (Harmony Books; $17.00; on-sale 5/9/17), Greenblatt presents his breakthrough Plus-Minus Healing Plan to restore attention, minimize hyperactivity, and help eliminate drug side effects, creating a balanced life for your child and your family, and adults diagnosed with ADHD.
ADHD—a disorder affecting 7 million American children and 8 million adults—is not a "behavior" or "discipline" problem, but a medical condition in which nutritional, neurological, genetic, and other factors disrupt the brain, causing imbalanced behavior. To restore balance, every person with ADHD requires a unique natural and medical treatment. FINALLY FOCUSED provides those treatments. Each chapter is organized as a step-by-step healing plan, where Greenblatt first helps parents understand the factors underlying their child's ADHD symptoms—and then shows them how to eliminate those factors, one by one. (Adults with ADHD can do the same on their own.) If medication is necessary, the Plus-Minus Healing Plan can minimize or even eliminate side effects.
In FINALLY FOCUSED, you'll learn:
90% of ADHD kids and adults are deficient in the mineral magnesium—and supplementing with the mineral can ease anxiety, clear up sleep problems, and reverse (or prevent) side effects from medication.
The average American child receives 17 courses of antibiotics by the age of 20—in some cases creating imbalanced gut bacteria (dysbiosis) that can imbalance the brain, causing the symptoms of ADHD.
If your ADHD child is often irritable, quick to anger, or aggressive, then using safe, low, nutritional doses of the mineral lithium may resovle the problem—in 2 to 4 weeks!
OPCs—a little-known nutritional supplement—can work just as well as ADHD medication, balancing brainwaves and restoring focus and attention.
FINALLY FOCUSED provides an all-natural alternative to a medical imbalance that historically has been treated solely with prescriptions. With Dr. Greenblatt's expert advice, millions of children and adults with ADHD can finally bring home a plan that will provide them the help they need in order to achieve true wellness.
Related Posts: