Press Releases
Fifty delicious recipes for doughnuts—as well as zeppole, beignets, churros, bomboloni, and doughnut holes—from Stephen Collucci of Colicchio & Sons
Glazed, Filled, Sugared & Dipped: Easy Doughnut Recipes to Fry or Bake at Home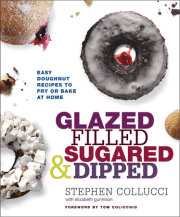 Stephen Collucci with Elizabeth Gunnison
Imprint: Clarkson Potter
On sale: August 27, 2013
Price: $17.99
Pages: 160
ISBN: 9780770433574
Contact:
Anna Mintz
212-572-6186
amintz@randomhouse.com
Whether dripping with glaze, dusted with sugar, or bursting with sweet filling, doughnuts are a universal favorite. Glazed, Filled, Sugared & Dipped: Easy Doughnut Recipes to Fry or Bake at Home (Clarkson Potter/Publishers; on sale August 27, 2013; $17.99; Hardcover), the debut cookbook from Stephen Collucci with Elizabeth Gunnison, including a foreword by Tom Colicchio, presents more than fifty recipes for doughnuts—as well as zeppole, beignets, churros, bomboloni, and doughnut holes—with glazes, fillings, and sauces to mix and match.
Stephen Collucci has achieved critical acclaim for his work at Colicchio & Sons in New York City, yet having grown up in a big Italian family in New Jersey, his heart lies in home cooking. In Glazed, Filled, Sugared & Dipped, Collucci brings fresh, all-natural flavors to a classic American confection, with recipes, techniques, and ingredients that are accessible to any cook. These sweet treats are surprisingly easy to make at home: they can be fried or baked and need only a simple finishing touch.
Sample recipes include:
BASIC DOUGHNUTS: Basic Berliner, Basic Cake Doughnut
DOUGHNUTS FOR BREAKFAST:  Boston Cream Doughnuts with Warm Blueberry Compote, Peach Fritters, Apple Cider Doughnuts with Butterscotch Dipping Sauce
DOUGHNUTS FOR DESSERT: Zeppole with Hot Fudge and Coffee Anglaise, Caramel Cream Doughnuts with Sour Apple Granita, Funnel Cake with Poached Cherry Compote
FILLINGS, GLAZES, and SUGARS: Perfect Lemon Curd, Chocolate Glaze, Cinnamon Cardamom Sugar, Lime Sugar
ACCOMPANIMENTS: Strawberry Preserves, Apple Butter, Vanilla Ice Cream
Brought to life with 50 full color photographs, Glazed, Filled, Sugared & Dipped will open up the wonderful world of homemade doughnuts to any home baker.
ABOUT THE AUTHOR:
STEPHEN COLLUCCI, aka Mr. Doughnut, is the pastry chef at Colicchio & Sons in New York City. His work has been featured on New York magazine's Grub Street and Today.MSNBC.com, and at the New York City Food & Wine Festival.
Related Posts:
You Might Also Like