Press Releases
THE FIFTH PETAL by Brunonia Barry
The new novel by the New York Times bestselling author of THE LACE READER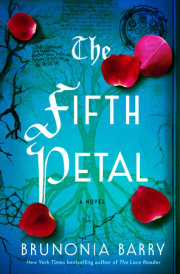 Brunonia Barry
Imprint: Crown
On sale: January 24, 2017
Price: $27.00
Pages: 448
ISBN: 9781101905609
Contact:
Rebecca Welbourn
212-782-9634
rwelbourn@penguinrandomhouse.com
Advance Praise for THE FIFTH PETAL
*A January 2017 LibraryReads Selection*
*A February 2017 Indie Next Selection*
"In contemporary Salem, a murder has taken place, with roots that reach back to the seventeenth-century witch trials. Filled with twists and turns, as well as ancient tradition and modern mystery, Barry's story has deft pacing, a marvelous sense of place, and a quirky cast of characters. The Fifth Petal is another haunting tale by the author of The Lace Reader where past and present collide." —DEBORAH HARKNESS, New York Times bestselling author of the All Souls trilogy
"Brunonia Barry's Salem is alive with rich history, and with a unique and colorful cast of characters: witches and healers, lace readers, the well-to-do and the down-and-out. And everyone's got secrets. The Fifth Petal is a mesmerizing take on the ways the past affects and influences the present. Time isn't linear,' says one of the characters, and the way Barry artfully weaves together a modern-day crime, a twenty-five-year-old murder case, and the Salem witch trials, you'll close the book believing that she's absolutely right."  —JENNIFER McMAHON, New York Times bestselling author of The Winter People and The Night Sister
"Dark and suspenseful, Barry's well-constructed tale is filled with traps and red herrings as the truth is slowly revealed and Salem is forced to confront its sordid past." —Publishers Weekly
"Barry fans will welcome the return of beloved characters and the introduction of new ones into a contemporary Salem appropriately fraught with remnants and reminders of its dark and twisted history. This spooky, multilayered medley of mysteries is sure to be a bestseller." —Booklist (starred review)
"Banshees, lost memories, and secret pasts each play a significant role in this novel; enthusiasts of the author's earlier work and readers interested in the history of witchcraft and the occult will enjoy this return visit to Salem." —Library Journal
"[An] entertaining occult murder mystery." —Kirkus Reviews
"There is true magic in The Fifth Petal, where Salem's dark history of murder threatens to destroy yet one more young woman, a descendant of one of the accused witches. As in The Lace Reader, Brunonia Barry weaves together ancient myths, modern mysteries, and the power and wisdom of a cabal of fearless women who've been touched by the invisible world." —KATHLEEN KENT, author of The Heretic's Daughter
"Brunonia Barry has done it again. If you liked The Lace Reader, you're going to love her new novel, The Fifth Petal. A real page-turner about murder and prejudice and love and what's possible and what isn't. Enjoy." —B. A. SHAPIRO, New York Times bestselling author of The Art Forger and The Muralist
"A seductive combination of suspense, history, myth—with a sprinkling of the supernatural—The Fifth Petal is an enormously satisfying mystery novel. Brunonia Barry has created a world that is at once inviting and menacing, populated by characters both warmly familiar and surprising." —ANDREW PYPER, author of The Damned and The Demonologist
"There are many writers who write wonderful books … then there are those rare writers who make magic. Brunonia Barry proves once again she is a sorcerer. Transported to Salem, I was lost in a Gothic tale that only the author of The Lace Reader could have conjured." —M. J. ROSE, New York Times bestselling author of The Secret Language of Stones
"Written with pens dipped in magic and chills, The Fifth Petal uncovers hidden corners where myth, malevolence, and fervor converge in Salem, Massachusetts. Tendrils from the past and present wrap the complicated characters—and the reader's attention—until the stunning final sentence. Brunonia Barry weaves miracles." —RANDY SUSAN MEYERS, bestselling author of The Murderer's Daughters
"The Fifth Petal is a brilliant and suspenseful tale that prods at embers still live in a buried past. By weaving together the lost evidence of two Salem tragedies, Brunonia Barry's novel prompts profound consideration of the respect for history, the importance of resolution, and the power of voice. Highly recommended." —THERESE WALSH, author of The Moon Sisters 
"Spellbinding! Clear your schedule—this beautifully written and seamlessly researched tale is a thriller, a romance, and a deeply felt investigation of the witch frenzy that haunts us to this day—and it's the book everyone will be buzzing about. Surprising, compelling, and profound—even revelatory—it will stay with you long after the last page." —HANK PHILLIPPI RYAN, Agatha, Anthony, and Mary Higgins Clark award–winning author
"Barry takes her readers back to Salem with a mesmerizing tale filled with familiar characters from her previous works and new ones as well. Towner Whitney and John Rafferty come to the aid of Callie Cahill as they attempt to piece together the circumstances surrounding the brutal murder of her mother while trying to keep herself from becoming a victim as well. This is a beautifully written story, full of twists and turns. Fans of The Lace Reader will love The Fifth Petal, though the book stands on its own and can be recommended to all readers." —Marianne Colton, Lockport Public Library (Lockport, NY)
"Brunonia Barry has done it again! If you are a fan of everything Salem and witches—don't miss The Fifth Petal! Loved it." —Julie Slavinsky, Warwick's (La Jolla, CA)
"A delightfully creepy thriller that will appeal to those who like a good dose of magic and mystery with their contemporary fiction, this story is an enjoyable follow-up to The Lace Reader. Recommended for anyone whose favorite holiday is Halloween. The book touches on some interesting, and provocative, themes." —Kristen Eaton, Phoenix Books (Essex Junction, VT)
"On Halloween night 1989, Callie Cahill's mother and two other women were murdered in Salem. Twenty-five years later, the case remains unsolved, and a similar murder has brought Callie back to Salem. The suspect in both crimes is Rose Whelan, but Callie is convinced she's innocent. It's up to Callie and the police chief to clear Rose's name before the town turns against them. The past still heavily influences the present in Salem, and while the witch trials are long over, those old resentments don't just disappear. Brunonia Barry brings back characters from her previous books and creates a world and a mystery that immediately pulls you in." —John Kwiatkowski, Murder by the Book (Houston, TX)
"Brunonia Barry's novels are set in Salem, MA—a town where the past is an integral part of the present and generations of residents are defined by the actions of their families hundreds of years ago. And so when one of Barry's characters says that 'time isn't linear,' you find yourself fully prepared to believe that, as well as believing that some women have uncanny abilities to read your mind, heal your soul, and see what isn't apparent to most. This novel is about a murder that takes place now, but has its roots in murders of twenty-five years ago and killings at the Salem witch trials. Barry conjures a setting that is richly atmospheric, and tells a spellbinding tale that will have you rushing home to read more." —Jill Miner, Saturn Book Store (Gaylord, MI)
"Reenacting the hysteria of the original Salem witch hunt in modern times, The Fifth Petal leaves the reader with the disconcerting feeling that times have not changed that much. Salem, Massachusetts, 2014: witches are a money-making proposition when the suspicious death of a teenager on Halloween raises the specter of witchcraft. The so-called Three Goddess Murders in which three descendants of seventeenth-century witches were slaughtered occurred on Halloween 1989. Two survivors of that attack are still alive and suspicion turns on Rose Whelan who is an 'odd woman,' echoing practices three centuries before. Police chief John Rafferty is aided in defending Rose by the other survivor, Callie, who was a child in 1989 and who has a strange marking on her hand that appeared the night of the deaths. The book is a good read for those who love that sense of unrest which comes from wanting to believe in witches and knowing that they probably don't exist." —Wendy Foster Leigh, The King's English (Salt Lake City, UT)
---
"Do you think, inside, every one of us is a killer?" This is the question that haunts the people of Salem, Massachusetts, in Brunonia Barry's spellbinding, masterful new suspense novel, THE FIFTH PETAL (January 24, 2017; Crown), a tale of otherworldly powers, ancient myths, and a gruesome triple homicide. Ten years after her New York Times bestselling debut novel THE LACE READER became an international sensation, Barry revisits contemporary Salem, where the dark history of the paranormal continues to reverberate in the lives of the Whitney family and their neighbors. With its release, THE LACE READER became an overnight success, winning numerous awards and rave reviews from the New York Times, Washington Post, Time, New York, People, and was named an Amazon Best Book of the Month (you'll find a complete list of praise on the opposite page). Barry, born and raised in Salem, now returns with a complex brew of suspense, seduction, and murder in her highly anticipated novel THE FIFTH PETAL.
When a teenage boy dies suspiciously on Halloween night, Salem's chief of police, John Rafferty, now married to gifted lace reader Towner Whitney, wonders if there is a connection between the boy's death and Salem's most notorious cold case, The Goddess Murders, in which three young women, all descended from accused Salem witches, were slashed on Halloween night in 1989. Now Rafferty must uncover who, or what, is killing the descendants of Salem's accused witches, while keeping the town's paranoia—all too similar to the hysteria that led to the infamous witch trials—at bay.
As Rafferty begins to uncover a dark chapter of Salem's past, he finds unexpected help from Callie Cahill, the daughter of one of the Goddess victims, who has recently returned to town. Discovered at the scene of the crime when she was five years old, Callie survived the mysterious massacre with only scratches on her arms and a perfect stigmata of a five-petal rose on the palm of her bloodied hand. Now Callie, who has always been gifted with premonitions, begins to struggle with visions she doesn't quite understand and an attraction to a man who has unknown connections to her mother's murder. Neither Rafferty nor Callie believes the main suspect, Rose Whelan, respected local historian and honorary aunt to Callie, is guilty of murder or witchcraft. But clearing Rose's name might mean crossing paths with a dangerous force. Were the women victims of an all-too-human vengeance, or was the devil raised in Salem that night? And if Rafferty and Callie can't discover what happened that night, will evil rise again?
Grounded in Salem's true, dark history, Brunonia Barry paints a complex, eerie portrait of a modern New England town living in the past. With magical realism that will appeal to readers of Erin Morgenstern and Gothic suspense echoing Deborah Harkness, THE FIFTH PETAL brings the world of Salem to life with Barry's signature rich and twisting prose. Suspenseful, sinister, and masterfully composed, THE FIFTH PETAL is a haunting novel that will grip audiences long after the final page.
ABOUT THE AUTHOR
Brunonia Barry is the New York Times and international bestselling author of The Lace Reader and The Map of True Places. Her work has been translated into more than thirty languages. She was the first American author to win the International Women's Fiction Festival's Baccante Award and was a past recipient of Ragdale Artists' Colony's Strnad Fellowship, as well as the winner of New England Book Festival's award for Best Fiction and Amazon's Best of the Month. Her reviews and articles on writing have appeared in The London Times and the Washington Post. Brunonia co-chairs the Salem Athenaeum's Writers' Committee. She lives in Salem with her husband, Gary Ward, and their dog, Angel.
Related Posts:
You Might Also Like