Press Releases
The Fast Metabolism Diet by Haylie Pomroy
New book from celebrity nutritionist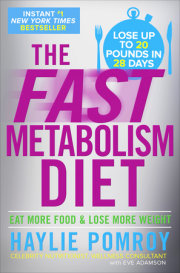 Haylie Pomroy
Imprint: Harmony
On sale: April 9, 2013
Price: $26.00
Pages: 272
ISBN: 9780307986276
Contact:
Tammy Blake
tblake@randomhouse.com
212-572-2542
Celebrity nutritionist and wellness consultant HAYLIE POMROY, whose celebrity clients range from Grammy- and Academy-Award winners to Super Bowl champs and Olympic athletes, and include Jennifer Lopez, Reese Witherspoon, Cher, Raquel Welch, and Robert Downey Jr., has been nicknamed "the metabolism whisperer" for her ability to help clients lose weight, meet their personal goals, and enhance their health while eating delicious foods. Pomroy reminds us that food is not the enemy, it's medicine needed to rev up sluggish, broken-down metabolisms and turn bodies into fat-burning machines! In THE FAST METABOLISM DIET (Harmony Books, On Sale Date April 9, 2013, $26.00), Haylie shares her revolutionary program that lets you eat more food and lose more weight by choosing foods that keep your metabolism guessing and getting it to work faster. THE FAST METABOLISM DIET is the silver bullet for anyone who wants to naturally and safely eat their way to a skinnier, healthier self.

THE FAST METABOLISM DIET incorporates four weeks of fat-burning meal plans with more than fifty recipes—including vegetarian, organic, and gluten-free options. In just four weeks, you'll see weight fall off. With Pomroy's plan, you won't count a single calorie or fat gram. Instead, you're going to rotate what you're eating to induce precise physiological changes that set your metabolism on fire. With over seventeen years experience helping people lose weight, improve fertility, overcome health challenges, and reach optimal health while still enjoying real food and not going hungry, Pomroy is highly regarded in Hollywood and the medical community for her ability to effect rapid, healthy weight loss.
Pomroy's fat-busting 28-day plan is simple:
• Phase 1 (Monday–Tuesday): Lots of carbs and fruits
• Phase 2 (Wednesday–Thursday): Lots of proteins and veggies
• Phase 3 (Friday–Sunday) All of the above, plus healthy fats and oils
On THE FAST METABOLISM DIET, not only will you lose weight and feel better, you may also see your cholesterol drop, your blood sugar stabilize, your sleep improve, and your stress level dramatically decrease—all thanks to the miraculous power of real, delicious, satisfying food. Pomroy's knowledge and guidance has worked for thousands of people—and now it's going to work for you! With Pomroy as your guide, you will boost your metabolism with the fat-burning power of food!
# # #
About the Author: HAYLIE POMROY is a celebrity nutritionist well known in Hollywood and in the medical community. With integrative healthcare clinics in Beverly Hills, Burbank, Irvine, and Fort Collins, her impressive client list includes celebrities such as Jennifer Lopez, Reese Witherspoon, Cher, Raquel Welch and Robert Downey Jr. Haylie is a nutritional counselor, registered wellness consultant, and holistic counselor.
For more on THE FAST METABOLISM DIET please visit www.fastmetabolismdiet.com.
Also available, The Fast Metabolism Diet APP, a digital companion tool providing all the planning tools you need to lose weight on THE FAST METABOLISM DIET!
Related Posts: