Press Releases
Fast Metabolism Food Rx by Celeb Nutritionist and Bestselling author Haylie Pomroy
7 Powerful Perscriptions to Feed Your Body Back to Health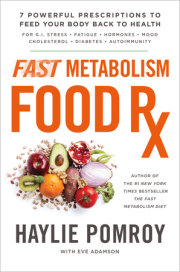 Haylie Pomroy
Imprint: Harmony Books
On sale: February 23, 2016
Price: $26.00
Pages: 304
ISBN: 9780804141079
Contact:
Tammy Blake
212-572-2542
tblake@penguinrandomhouse.com
From Bestselling Celebrity Nutritionist
HAYLIE POMROY
New Book To Make You Feel Great, Disease-Proof Your Body &  Live in Optimal Health At Your Ideal Weight
---
FAST METABOLISM FOOD Rx
7 Powerful Prescriptions to Feed Your Body Back to Health
When multiple health challenges threatened the life of Haylie Pomroy, a celebrated nutritionist, and  #1 New York Times bestselling author of The Fast Metabolism Diet, it set her on an investigative journey that was life-changing—and lifesaving.  Now, in her new book FAST METABOLISM FOOD Rx (Harmony Books; On-Sale February 23, 2016), she shares her personal story for the first time, as well as the powerful food programs she created based on the methods and philosophies that saved her life and helped her thrive.  These same food therapies have provided profound  results in her clinics where she's treated thousands of patients for decades.
Our bodies are always talking, communicating their needs. We just need to learn how to listen. Sometimes they whisper to us—our energy is off, we just don't feel right, we have indigestion or IBS, or our body shape is morphing in ways we don't recognize or like. Sometimes our bodies speak up and change our biochemistry in order to get our attention, by pushing our cholesterol a little higher, making us irritable, reactive, or 'foggy.' At other times our bodies are screaming for help, we have become pre- or full-blown diabetic and our immune systems are confused and attacking us.  Every one of these health signals hides a specific problem, and for which food, not drugs, is the answer.
In FAST METABOLISM FOOD Rx, Pomroy offers a foundational foods list that becomes your medicine chest for metabolic change and a specific food prescription for the seven most common ways your metabolism misfires, leading to exhaustion, excess weight, and illness.  In addition, she offers key principles to ensure success including:
Begin your day with food within thirty minutes of waking;
Always eat three meals and two to three snacks a day;
Always have a snack before you exercise, or as Pomroy likes to say "Don't fast before you go fast."
Eat real food: Choose your food from the sea, land or sky, not the factory;
Drink half your body weight in ounces of spring water every day, with a maximum of 100 ounces per day.
With her targeted eating plans and guiding principles, you can feed your body back to a vibrant, energetic, and thriving state.
If you're suffering from GI issues, fatigue, out of whack hormones, mood and cognition difficulties, elevated cholesterol, blood sugar control problems, or an autoimmune problem, FAST METABOLISM FOOD Rx has the personalized solution for you, proving that anyone can achieve the healthy body they want from the foods they choose and use.  Are you ready to eat your medicine?
# # #
ABOUT THE AUTHOR:
HAYLIE POMROY, nutritionist, #1 New York Times bestselling author, and owner of integrative health care clinics in Beverly Hills, Burbank, Irvine, and Fort Collins, is well known in Hollywood and in the medical community for her ability to use food as metabolic medicine.  She has appeared on PBS, The Dr. Oz Show, Good Morning America, Katie, Extra, and Access Hollywood, and has been featured in First for Women, Harper's Bazaar, Marie, Claire, People, New Beauty, and more. Her celebrity clients include Jennifer Lopez, LL Cool J, Robert Downey, Jr., and NFL athletes.  Visit her at Haylie Pomroy.com.
Related Posts:
You Might Also Like