Press Releases
FAST FOOD MANIAC by Jon Hein
From Arby's to White Castle, One Man's Supersized Obsession with America's Favorite Food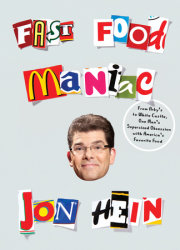 Jon Hein
Imprint: Three Rivers Press
On sale: 2/2/16
Price: $15.00
Pages: 288
ISBN: 9780553418033
Contact:
Rebecca Marsh
212-572-2544
rmarsh@penguinrandomhouse.com
In FAST FOOD MANIAC, Jon Hein—Howard Stern Show regular, TV host, and fast food expert—celebrates everything America loves about grab-and-go cuisine.
"Jon and I have been on-air partners for ten years. We have traveled the country together and I promise you…this man KNOWS fast food."
—Gary Dell'Abate, New York Times bestselling author of They Call Me Baba Booey
Like many Americans, Jon Hein has fond memories of growing up surrounded by fast food chains—slinging cones at an afterschool job at Baskin-Robbins, ordering Domino's to his college dorm, or taking a family pilgrimage to Nathan's in Coney Island. But Hein isn't just a casual fast food lover; he's a true connoisseur. He's visited the Dunkin' Donuts headquarters and Colonel Sanders's original kitchen, built his own Dairy Queen Blizzard and tried his luck as a Sonic Carhop, donned a Taco Bell lab coat, and camped out for a Chick-fil-A store opening.
 In his new book, FAST FOOD MANIAC: From Arby's to White Castle, One Man's Supersized Obsession with America's Favorite Food (Three Rivers Press; Trade Paperback Original; $15.00; On Sale 2/2/16), Hein is sharing his expertise for the first time, drawing on his extensive knowledge of and love for both national chains and regional gems. He goes behind the counter to give readers the inside scoop, delves into never-before-revealed secret menus, and offers his own expert tips on where to go and what to order.
A regular on The Howard Stern Show, host of Fast Food Mania on Discovery's Destination America, and author of Jump the Shark, Hein is an avid consumer of both pop culture and fast food. He has tasted everything from In-N-Out Burger and Wahoo's to Carvel and Cinnabon, and FAST FOOD MANIAC compiles his tips and tricks in an irreverent, nostalgic style.
There are more than 220,000 fast food restaurants in the U.S., and one in four American adults eats fast food every day. FAST FOOD MANIAC is a celebration of America's favorite culinary guilty pleasure, as Hein takes an in-depth look at chains both big and small, exploring company origin stories; looking back at the best giveaways, games, and uniforms; and providing battle-tested ordering tactics. His "Best" lists range from the essentials, like burgers, fries, and shakes, to connoisseur concerns like straws, ice, and slogans. He even shares a comprehensive—and exclusive!—dossier of secret menu items, and how to order them.
FAST FOOD MANIAC is also full of great trivia, including:
The name Arby's comes from the initials of the founders, the Raffel Brothers, and their signature product, roast beef.
The first Krispy Kreme donuts were sold through an actual hole in the wall of the first location in Winston-Salem, North Carolina.
John Schnatter—aka Papa John—sold his prized 1971 Camaro to buy used pizza-making equipment, and sold his first pies out of a converted broom closet in his father's tavern.
Popeyes isn't named for the spinach-eating cartoon sailor, but rather for Gene Hackman's memorable detective Popeye Doyle from the classic film The French Connection.
The ice at Sonic is so famous that customers will order it by the bag for their coolers. It costs about two bucks for a ten-pound bag, and lasts longer than any other ice you can find.
Every year on Valentine's Day, White Castle transforms into Love Castle. There is a maître d' and a special menu, and the tables are decorated with red or white tablecloths and candles.
If you've ever had nostalgia for a Happy Meal, or debated the merits of In-N-Out Burger versus Shake Shack, then you'll get a kick out of FAST FOOD MANIAC. Interspersed with fond memories of each chain, this book is a love letter to American fast food and the definitive guide to some of America's most cherished guilty pleasures—all without the calories!
ABOUT THE AUTHOR
Jon Hein is a regular on The Howard Stern Show and host of The Wrap-Up Show. An avid consumer of pop culture and fast food, he is the author of Jump the Shark and was the host of Fast Food Mania on Discovery TV. He lives with his family in New York.
Related Posts: