Press Releases
Fans of Downton Abbey and The Great Gatsby will love Alison Maloney's irresistible primer to the Roaring Twenties
Bright Young Things: A Modern Guide to the Roaring Twenties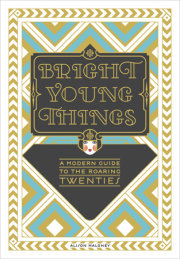 Alison Maloney
Imprint: Potter Style
On sale: March 5, 2013
Price: $12.95
Pages: 128
ISBN: 9780385345255
Contact:
Kim Small
212-572-6067
ksmall@randomhouse.com
For the millions of Downton Abbey fans, those eagerly anticipating Baz Luhrmann's The Great Gatsby (set to open in theaters in May), and lovers of the glamour and scandal of the 1920s, BRIGHT YOUNG THINGS (Potter Style, On Sale March 5, 2013, $12.95) is the essential primer to everything Roaring Twenties—hot jazz and hotter all-night dance halls, high society's controversial exploits, Prohibition cocktails, opulent costume parties, and, of course, all the glittering trappings of the notorious flapper.
BRIGHT YOUNG THINGS invites you to step into to the unforgettable Jazz Age and try on its irresistible allure with sections on:
How to Be Bad: The Flapper Life: A bobbed hairdo, open-backed dresses, some local lingo, and the enticing influence of Coco Chanel is all a flapper needs to start on the road to decadence.
Entertaining Tips: A revival of scavenger hunts and costume party themes, along with the perfect jazz playlist for any dinner party or soirée, and the dance steps to go with it!
Vintage Cocktail Recipes: The Gin Rickey, French 75, the Mary Pickford, Bronx Cocktail, and more
Roaring Movies and Books: A list of must-see and must-reads for the true '20s aficionado
Trendsetters of the Era: From Cecil Beaton's shocking surrealist photos to Lillian Lorraine, the most celebrated dancer of the Ziegfeld Follies, an essential collection of "Who's Who" of the 1920s
Being a bright young thing means viewing life as a never-ending party. Consider this book your cordial invitation! Adorned with art deco illustrations and packaged in a beautiful foil-stamped case, this book looks stunning resting on a coffee table and makes a fabulous gift for any Downton Abbey viewing party host or hostess!
About the Author:
ALISON MALONEY is a film and TV correspondent for the Sun online and is also the author of several books, including the previous bestselling Strictly Come Dancing Annual 2008, a number of children's titles, and The Mums' Book: For the Mum Who's Best at Everything, which reached number one on The Sunday Times bestseller list. She currently resides in London.
Related Posts: