Press Releases
A FALSE REPORT: A TRUE STORY OF RAPE IN AMERICA By T. Christian Miller and Ken Armstrong
Based on the Pulitzer Prize-Winning Article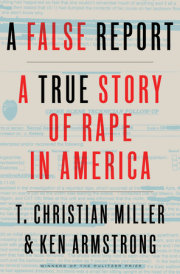 T. Christian Miller and Ken Armstrong
Imprint: Crown
On sale: February 6, 2018
Price: $28.0
Pages: 304
ISBN: 9781524759933
Contact:
Dyana Messina
212-572-2098
dmessina@penguinrandomhouse.com
Advance Praise for A FALSE REPORT
"Shines a critical light on an urgent and timely subject." —Publishers Weekly, starred review
"The authors describe how [several] cases come together in a highly suspenseful (chapters often end in cliffhangers) and thorough manner that still considers the victims and avoids gratuity. . . . This timely, well-researched, highly readable account will appeal to readers interested in true crime and social justice issues." —Booklist, starred review
"Chilling . . . The authors display meticulous investigative reporting skills . . . A riveting and disturbing true-crime story that reflects the enduring atrocity of rape in America." —Kirkus Reviews
"A timely account from two Pulitzer Prize–winning journalists follows the story of a young woman who was charged with lying about her rape. These reporters dig deep to discover the truth." —Elite Daily
"Sure to be an essential—but gut-wrenching—read." —Bustle
Police said it was an unbelievable story. In 2008, an eighteen-year-old woman named Marie reported being raped in her apartment in Lynnwood, Washington, a suburb of Seattle. She had awoken to a man standing in her bedroom doorway, his face obscured by a mask. Holding a knife, he tied her up with her own shoelaces and assaulted her. During the course of the attack, he photographed her, threatening that if she told the police, he'd post the pictures on the Internet for the world to see. Then he left.
Within days, however, Marie's claims were met by skepticism. Even Marie's foster mother began to question her story, which sounded like something out of Law & Order, and wondered about her demeanor and actions following the attack. She thought Marie's story might be a desperate bid for attention. After repeated interviews, the detectives on her case deemed aspects of her story inconsistent. They stopped searching for a rapist and instead turned their investigation to Marie. With her support system in tatters and under pressure from detectives, Marie took back her story, saying she had lied about the rape; the police charged Marie with false reporting. Branded a liar, Marie was left to try to pick up the pieces of her life. More than two years later, another detective, nearly 1,400 miles away in Colorado, would make a discovery: a photograph, extracted from the camera of a serial rapist. It was a young woman, bound, with something on her chest—a learner's permit placed there by her attacker. The location: Lynnwood, Washington. The young woman's name: Marie.
Marie's story was first brought to national attention by acclaimed journalists T. Christian Miller and Ken Armstrong in their Pulitzer Prize–winning article, "An Unbelievable Story of Rape," copublished by ProPublica and the Marshall Project in 2015. In that piece, Miller and Armstrong showed readers how Marie's rapist—a man who had sexually assaulted numerous women—almost got away with his crimes. They introduced Stacy Galbraith and Edna Hendershot, two veteran detectives from different cities in Colorado who were each investigating separate claims of rape. As police agencies do not routinely share information, the two women didn't know they were on the hunt for the same rapist until, in a complete fluke, Galbraith learned that her case bore a striking resemblance to an attack that had taken place months earlier in a nearby town. Galbraith and Hendershot would bring their agencies together—along with state and federal investigators—to solve the case, culminating in the arrest and conviction of serial rapist Marc Patrick O'Leary—and the discovery of the truth about Marie.
In A FALSE REPORT: A True Story of Rape in America (Crown; February 6, 2018), Miller and Armstrong have continued their reporting to further illuminate the disturbing reality of how our society—and especially law enforcement—treats victims of sexual assault. Through interviews with numerous police officers involved in the case, including Detectives Galbraith and Hendershot; Marie and the people in her life who doubted her; and even the rapist, Marc Patrick O'Leary, Miller and Armstrong present what is truly an unbelievable story: that of a victim who wasn't believed, a rapist who almost averted capture, and a system of justice that failed the very people it is supposed to protect.
Slated to become an eight-part scripted series for Netflix, A FALSE REPORT is both a deeply absorbing true-crime story and a trenchant social critique.
About the Author: T. Christian Miller joined ProPublica as a senior reporter in 2008. Before that, he worked for the Los Angeles Times, where he covered politics and wars, and was once kidnapped by leftist guerrillas in Colombia. Ken Armstrong, who joined ProPublica in 2017, previously worked at the Marshall Project and the Chicago Tribune, where his work helped prompt the Illinois governor to suspend executions and empty death row. They have both been awarded numerous prizes, including the Pulitzer.
Related Posts: