Press Releases
Explore the foodways, people, and places of Appalachia
Victuals by Ronni Lundy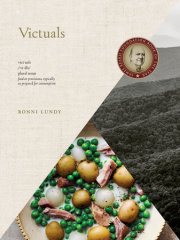 Ronni Lundy
Imprint: Clarkson Potter
On sale: August 30th, 2016
Price: $32.50
Pages: 320
ISBN: 9780804186742
Contact:
Anna Mintz
212-572-6186
amintz@prh.com
FOR IMMEDIATE RELEASE                                                                                                   
CONTACT:
Anna Mintz                                              
Assistant Director of Publicity, Clarkson Potter
amintz@penguinrandomhouse.com | 212.572.6186
Victuals: An Appalachian Journey, with Recipes (Clarkson Potter| August 30, 2016 | $32.50 | Hardcover) guides us through the surprisingly diverse history – and vibrant present – of food in the Mountain South. While Appalachia is often stereotyped and dismissed as a homogenous place, here, through 80 recipes and stories gathered on her travels in the region, Southern food authority Ronni Lundy provides a deeper look at the region's complexity, from its wide range of native crops to the people bringing vibrancy to the food landscape.
Sitting at a diverse intersection of cuisines, Appalachia offers a wide range of ingredients and products that can be transformed using traditional methods and contemporary applications. Victuals explores the diverse and complex food scene of the Mountain South through recipes, stories, traditions, and innovations, and with essays that introduce readers to the rich histories and the farmers, curers, hunters, and chefs who define the region's contemporary landscape. Each chapter explores a specific defining food or tradition of the region; recipes featured include:
ROOTS AND SEEDS: Morels & Ramps with Eggs on Toast; English Pea Salad with Cream Dressing; Braised Greens & Pot Likker; The Shack's Sweet & Savory Banana Pudding
SALT OF THE EARTH: Pepperoni Rolls; Miner's Goulash; Smoked Oyster Stew for Two; Salty Dogs (Chili Buns and Slaw Dogs)
CORN: Appalachian Sour Corn; Real Cornbread; Buttermilk Brown Sugar Pie; Perfect One-Eyed Jack
BEANS: Mountain Green Beans & Taters; Succotash; Ginger Bean Chowchow; King Daddy's Cracklin Waffles with Candied Candy Roaster
APPLE-ACHIA: Fried Apples; Pork & Kraut in Cider Gravy with Noodles; Apple Stack Cake; Colin Perry's Sorghum & Apple Sticky Pudding
PRESERVING: Icebox Green Strawberry Pickles; Kentucky Kimchi; Pickled Baloney with Peppers; Persimmon Custard Pie
HUSBANDRY: Skillet Fried Chicken & Milk Gravy; Doorbell Pork, Hominy & Wilted Greens; Bigger Isn't Better Buttermilk Biscuits; Shelley Cooper's Jonas Ridge Grilled Trout
APPALACHIAN SPRING: Spring Ham, Peas & New Potatoes; Redbud Caper Deviled Eggs; Sumac Oil Flatbread with Country Ham & Pickled Ramps; Busy Day Cobbler
With beautifully dramatic photography by Johnny Autry that enhances Ronni's thorough and entertaining histories of the chefs, farmers, and people who are shaping the region today, Victuals will stand as the source of information on past, present, and future Appalachian foodways.
#  #  #
ABOUT THE AUTHOR:
Born in Corbin, Kentucky, RONNI LUNDY has long chronicled the people of the Southern Appalachians as a journalist and cookbook author. She is the former restaurant reviewer and music critic for The Courier-Journal in Louisville, former editor of Louisville Magazine, and has contributed to many national magazines. Her book Shuck Beans, Stack Cakes and Honest Fried Chicken was recognized by Gourmet magazine as one of six essential books on Southern cooking. In 2009, Lundy received the Southern Foodways Alliance Craig Claiborne Lifetime Achievement Award. She has contributed to Eating Well, Gourmet, Bon Appétit, Esquire, and other magazines.
#  #  #
Select Advance Praise for Victuals
"Perhaps the finest book ever about mountain food."
– The Bitter Southerner
"Victuals promises to be the jewel in [Ronni Lundy's] crown, setting the record straight about her native cuisine, too long dismissed as homogenized, and telling instead the real story of a cookery thrillingly formed at the crossings of African, European, and Native Nation traditions. Did we mention it comes with recipes?"
– Oxford American
"Lundy is a warm and charming guide with a deep-seated love and respect for the region and its approach to cuisine. Fans of locally sourced foods and Southern cooking will find a lot to like here, as Lundy does a terrific job of showcasing Appalachia's breadth and depth."
– Publishers Weekly, Starred Review
"Each chapter of Victuals focuses on a tentpole of Appalachian cuisine; an ingredient or a tradition. Essays on each, along with 80 recipes, tell the story of this diverse mountain cuisine through the words of one of its biggest champions."
– Epicurious
Related Posts:
You Might Also Like