Press Releases
EXHIBIT ALEXANDRA by Natasha Bell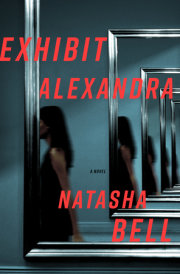 Natasha Bell
Imprint: Crown
On sale: March 13, 2018
Price: $27.00
Pages: 304
ISBN: 9781524761073
Contact:
Christine Johnston
212-572-6067
chjohnston@penguinrandomhouse.com
Praise for EXHIBIT ALEXANDRA
"The full extent of [Alexandra's] audacity only becomes evident toward the end of this ingenious optical illusion, which may leave some readers gasping in admiration and others angry at being played.… On one level a gripping page-turner and on another a disturbing exploration of identity, art, and decency, Bell's daring performance can't be ignored." —Publishers Weekly, starred review
"Bell gives us all the clues and dares us to follow them to the shocking end. This smart, mirror-maze of a thriller bristles with sharp edges, twisting familiar Gone Girl themes into Bell's own intense creation." —Kirkus Reviews
"A moody, gut-wrenching tale of domestic ennui, feminism, and identity, recommended for literary-thriller devotees and book groups." —Booklist
"A thriller that explores how much we can ever truly know about the people we love." —Bustle
How well do we know those closest to us? Even in the most intimate of relationships, can we ever truly know another person? Or do we only know what they are willing to share with us? These are the questions Natasha Bell poses in her brilliant and unnerving novel, EXHIBIT ALEXANDRA (Crown; March 13, 2018).
Alexandra Southwood loves her husband. She is devoted to her two daughters. They are a happy family. Until Alexandra disappears.
These blissful memories of her beloved family are now what tortures Alexandra as she is being held against her will, locked in a room where an unknown assailant forces her to confront the devastation that her disappearance has wrought. She is shown news stories about her missing persons case and video clips of Marc, her once vibrant husband, making desperate pleas for her safe return. Day after day, she is questioned about her life, made to think of all that she had—and all that is now lost.
The police fear the worst, and Marc, despite the urging of family and friends, refuses to accept that Alexandra is lost to him. Desperate for any clue that might help him find her, Marc begins his own examination of their life together. His search will unearth things he never knew about Alexandra and secrets he was never meant to discover, forcing him to confront the reality of his marriage and how little he actually knows about the woman he loves.
Bell has created a masterful work of psychological suspense that will leave readers guessing until the very end. Full of intricately plotted twists and turns—and asking unsettling questions about love, marriage, motherhood, and identity—EXHIBIT ALEXANDRA is poised to become one of this spring's most discussed novels.
About the Author: Natasha Bell grew up in Somerset and studied English literature at the University of York. She holds an MA in the humanities from the University of Chicago and an MA in creative writing from Goldsmiths. She lives in southeast London.
Related Posts: