Press Releases
The No More Excuses Diet by Maria Kang
3 Days to Bust Any Excuse, 3 Weeks to Easy New Eating Habits, 3 Months to Total Transformation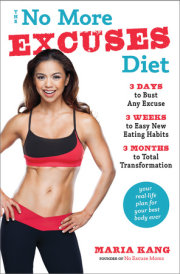 Maria Kang
Imprint: Harmony Books
On sale: March 10, 2015
Price: $26.00
Pages: 304
ISBN: 9780553419672
Contact:
Lauren Cook
212-782-9485
lcook@penguinrandomhouse.com
Maria Kang struggled with her weight for years. She was a serial dieter, a weight-loss pill popper, and a woman who had every excuse in the book. She struggled with her genetics,  has three young children, a full-time job, a limited budget, and, most of all—a lack of time. Before children, at her heaviest she had thirty extra pounds and struggled with depression and emotional eating. At her lightest, she overexercised, underate, and underwent hormonal treatment to regain her fertility. Maria Kang has seen both sides of the spectrum and has developed a diet that revolutionizes how she approaches nutrition, fitness, relationships, and life. When you take accountability for your lot in life, you unlock your life's game changer. Identifying your excuses and creating a specific plan to combat them is the key to long-lasting and permanent success.
In her new book, THE NO MORE EXCUSES DIET (Harmony Books, on sale now) Maria Kang teaches readers how to overcome the excuses that prevent them from the healthy life they strive for. Whether the goal is to go down a dress size, get back to a pre-baby weight, or have amazing abs by summertime, this book offers a results-oriented, realistic, and long-term program that encourages readers to move more, eat better, and love their lives more than ever.
Maria Kang became well known for the controversial "What's Your Excuse?" photo she posted on Facebook, which went viral in 2012. While she did intend to start a conversation about health and wellness, Maria's message is really about empowering women, men, and children to become their healthiest selves, overcoming the excuses that plague them.  She now boasts over 40,000 No Excuse Mom members and over 300 free workout locations in 25 countries worldwide. Her message also resonated with her popular groups, No Excuse Dad, No Excuse Woman, No Excuse Runners, and even No Excuse Kid, an elementary school program that launched in February 2015.
Thousands are onboard after they identified their excuses and realized that their reason for following through was much bigger (and more important) than being tired or lacking time. Educating yourself, evaluating your excuses, empowering others, and evolving through each cycle are what makes Maria's program unique.
It takes three days to break down an excuse, three weeks to develop a new habit, and three months to make a significant, lasting change to your life. THE NO MORE EXCUSES DIET helps readers achieve big results every step of the way.
The first step of the program is about setting and executing ambitious and attainable goals. Maria uses a unique 30 percent carbs, 30 percent protein, 30 percent fats, and 10 percent flex diet that readers will customize to their specific needs, and a combination of strength, cardio, and flexibility training to improve health and create a caloric deficit.  In the next step, readers will learn to identify the excuses that are holding them back and learn habit-shifting techniques to overcome any obstacle. Finally, Maria shows readers how to celebrate their results and how to establish new goals to sustain the new, healthier normal.
Packed with meal plans, grocery lists, a clear plan of action, and plenty of encouragement, THE NO MORE EXCUSES DIET is a must-read book for anyone who is ready to bust through the excuses that hold them back and finally achieve their health and fitness goals.
###
ABOUT THE AUTHOR: MARIA KANG is a health advocate who believes that health begins with choice. Maria is the founder of the Fitness without Borders, as well as the No Excuse movement, an organization of thousands of men, women, and children around the country making a commitment to their health one day at a time. Maria lives in California with her husband and three children.
Related Posts:
You Might Also Like