Press Releases
Ex-Patriots, Peter Clines's even-better-than-the-first sequel to Ex-Heroes, features a terrifying and ingenious new threat
Ex-Patriots is sure to establish Clines as one to watch by fans of such hits as Watchmen, World War Z, and Ready Player One.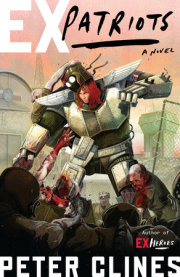 Peter Clines
Imprint: Broadway Paperbacks
On sale: April 23, 2013
Price: $14.00
Pages: 432
ISBN: 9780804136594
Contact:
Lauren Kuhn
(212) 782-8637
lkuhn@randomhouse.com
Praise for Ex-Heroes:
"A novel that will take you on a wild and heartwarming ride. . . . [a] creative zombie story, with in-depth characters, and filled with humor, action, and gruesome fight scenes . . . the final clash made my heart race in ways seldom accomplished by a book."—Wired.com 
"I loved this pop-culture-infused tale of shamed superheroes struggling to survive a zombie apocalypse in the ruins of Hollywood. It's The Avengers meets The Walking Dead with a large order of epic served on the side." —Ernest Cline, New York Times bestselling author of Ready Player One 
"Zombies? Check. Superheroes? Check. Awesome? Check. Ex-Heroes has it all. You're in for a treat!"—Mira Grant, New York Times bestselling author of Feed 
Originally published by a small, print-on-demand press without any publicity or marketing support and almost no physical distribution, Peter Clines's fantastic debut, Ex-Heroes, still managed to draw an incredible cult following and had genre fans all over the blogosphere raving when Broadway released the paperback in February. Now, Broadway is thrilled to introduce the second in Clines's sci-fi, thriller, and horror fiction mashup series, Ex-Patriots (Broadway; on sale April 23, 2013; $14.00). Featuring the same cast of brilliant original superheroes (including Zzzap, able to transform into white-hot energy, power a small city, and transmit messages directly to phones and radio, among his other talents), expert thriller plotting, cinematic action scenes, and tons of fun geek and pop-culture references (and set in L.A., where a number of celebrities make rather humorous cameos as zombies), Ex-Patriots is one of those rare sequels that is even more gripping than the first and is sure to establish Clines as one to watch for by fans of such hits as Watchmen, World War Z, and Ready Player One.
In Ex-Patriots, it's been two years since the plague of ex-humans decimated mankind. Since then, the superhero called St. George, together with fellow heroes Cerberus, Zzzap, and Stealth, have protected the people of Los Angeles at their film-studio-turned-fortress, the Mount. But the fight is getting harder every day—and the heroes are wondering how much longer they can hold out. Then hope arrives in the form of a surviving U.S. Army battalion, and not just any battalion. The men and women of the Army's Project Krypton survived the outbreak because they are super-soldiers, created before mankind's fall to be better, stronger, and faster than normal humans—and their secure base in Arizona beckons as a much-needed refuge for the beleaguered heroes and their charges. But there is a secret at the heart of Project Krypton, and those behind it wield an awesome and terrifying power.
With the same wry wit and light touch that bedazzled readers of Ex-Heroes, Ex-Patriots features great new characters, cool new threats, and jaw-dropping plot twists that will amaze even the most well-versed in the adventure genre. 
ABOUT THE AUTHOR: PETER CLINES has published several pieces of short fiction and countless articles on the film and television industry, as well as the recent novel 14, named best sci-fi novel of 2012 by Audible.com and voted one of the best horror novels of 2012 on Goodreads and Bloody Disgusting. He lives in Southern California.
Related Posts: